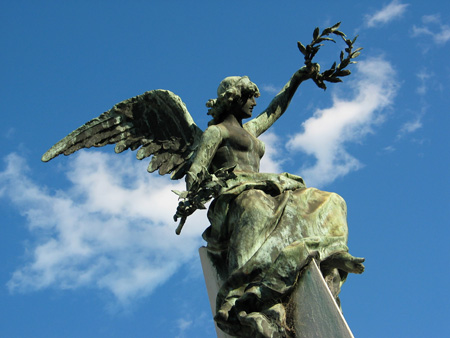 Happy 200th birthday! Marcelo was unable to attend, but a series of activities throughout November commemorated the bicentennial of Recoleta Cemetery. Announced by the official website of the Buenos Aires city government, here's their schedule of events:
Official commemorative act, November 17


Dramatization, November 19 at 18:00
Directed by Hugo Aquino, the Clepsidra theater group will surprise as usual in its performances at various historical sites. This tour & its actors pull together 200 years of Argentine history from a religious, architectural, political & cultural perspective.


Symphony orchestra, November 24 at 18:00
The Argentine Naval Prefecture symphony orchestra brings together 40 members to perform a repertoire that will include the Argentina national anthem as well as works by Brahms, Strauss & Dvorak.


Chamber vocal ensemble, November 26 at 18:00
Created in 1970, the Chamber Vocal Ensemble —managed by the Undersecretary of Culture from the Municipality of Quilmes— is composed of music professionals who join the group through a rigorous competition. The choir is composed of 5 sopranos, 4 altos, 3 tenors & 5 bass singers that achieve a beautiful harmony. They have performed in emblematic places such as the Teatro Colon, the Teatro Cervantes & the Auditorio Belgrano among others.


Guided visit, November 30 at 21:00
Commemorating the bicentennial of the cemetery, Mr. Eduardo Lazzari will accompany us in a nighttime tour without precedent. The route will include places of interest that bring together legends & stories that have been gathered throughout history.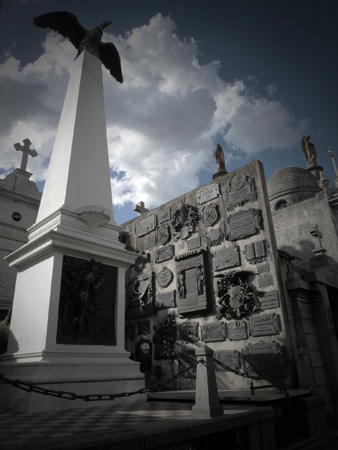 In addition, the article lists ten must-see places to visit inside Recoleta Cemetery. We've written about these specific tombs or general areas, so each link below will take you directly to that post: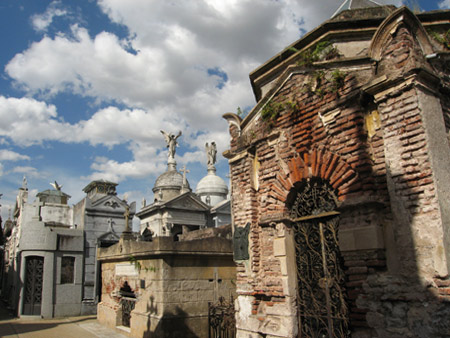 Other press releases in local newspapers generally copied the official article linked above; however, one editorial piece in La Prensa caught my attention. Written by Roberto L. Elissalde, the article mentions some of the impressions that foreign visitors had while visiting Recoleta Cemetery as well as highlights the role of the cemetery's first historian, Ricardo de Lafuente Machain. Worth a look if you can read Spanish.
---
If anyone has photos of the events mentioned above & would like to share, I'd be happy to post them here… & of course give proper credit!
Leave a Comment