A fourteen-year-old Yiddish-speaking boy, born in a shtetl outside of Kiev, forced to work since the age of ten, is shot during the 1905 Russian revolution. Wounded, he spends six months in jail. Three years later he moves to Argentina to join his brother. Within a few months he leaves the Jewish neighborhood of Once, learns Spanish, finds non-Jewish roommates, and gets a job as a machinist in an Italian-owned metal shop. He frequents the Biblioteca Rusa where he absorbs the vigorous discussions promoting anarchism.
Barely a year after his arrival, this teenager witnesses the mayhem of the 1909 May Day demonstrations. The police fire upon the protesters. Anarchists shoot back. At least five dead and dozens wounded. The days that follow are a week of violent reprisals and protests. Sixty thousand people march to the funerals for those who died on May 1. Riots continue along with demands for the removal of police chief Ramón Falcón.
Tensions continue throughout the year. Our teenager, Simon Radowitzky, closely follows the movements of the police chief. On 14 November 1909, Coronel Falcón and his aide twenty-year-old Juan Alberto Lartigau ride through Recoleta. As their car approaches the corner of Callao and Quintana, a bomb is thrown inside. The explosion follows. Neither man is killed instantly. Their injuries are severe. Both will die before nightfall.
Appropriately, Falcón & Lartigau are buried next to each other in Recoleta Cemetery, both with fantastic monuments. Lartigau has a group of angels watching over his collapsed body in a Pietà-inspired scene. Beneath his name is the date of the bombing with a note that the tomb was paid for by public donations… wrought-iron gates add a nice touch. The Jewish community in Buenos Aires also donated a plaque: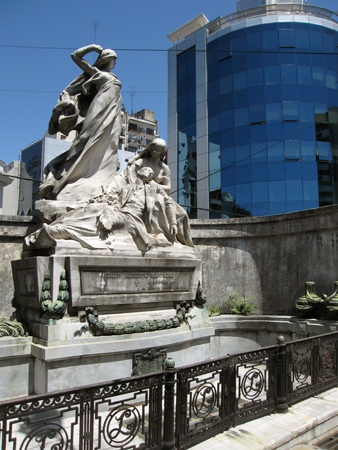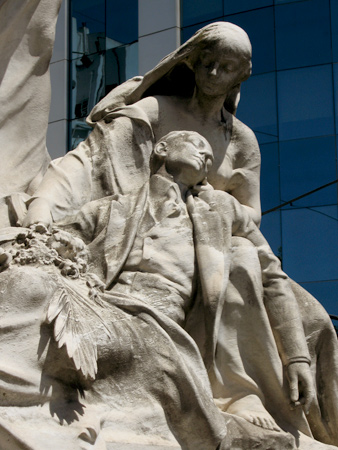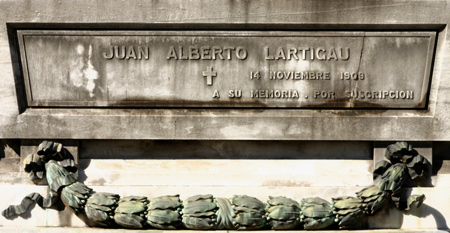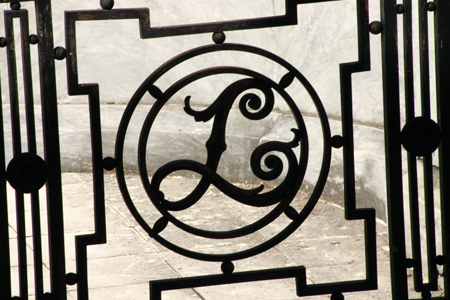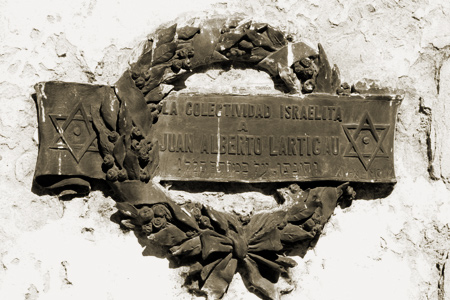 Alongside is the severe vault of Ramón Falcón. He lies sculpted in effigy while someone above fights a Sphinx… half-woman, half-lion, sometimes winged (not in this case). Two robed statues of women in mourning approach Falcón, & the entire monument is covered in plaques: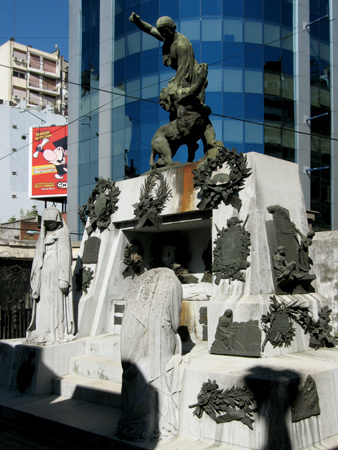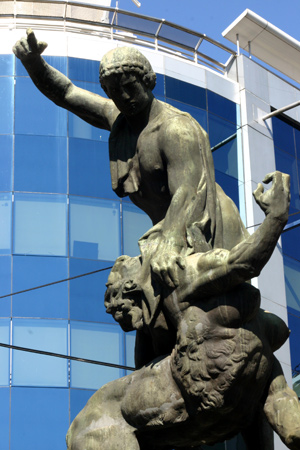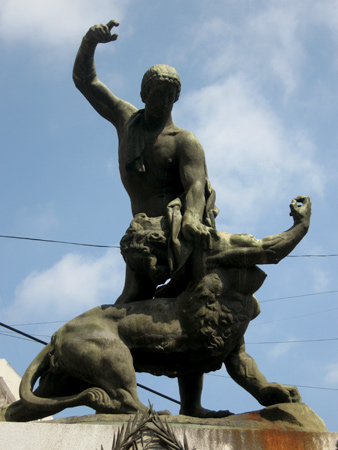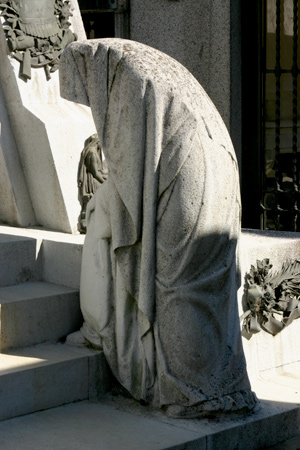 Some text adapted & used with permission by Jeff Barry, author of Buenos Aires: City of Faded Elegance. To discover the fate of Radowitzky, read the remainder of Jeff's post.