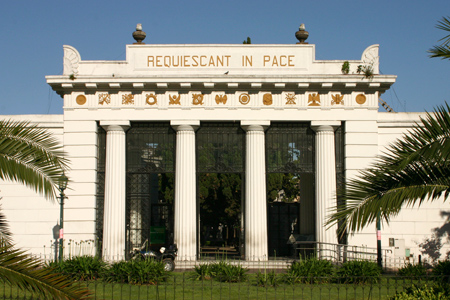 When founded in 1822, the cemetery grounds were humbler than the miniature city of mausoleums which can be visited today. The main entrance was nothing more than a wrought-iron gate without much decoration, & the area was enclosed by an adobe-cement wall. Buenos Aires mayor Torcuato de Alvear sponsored large urban makeovers of the city & Recoleta Cemetery was on his list. In 1881, plots randomly located among dirt paths gave way to orderly sectors & paved walkways.
Juan Buschiazzo designed an appropriately elegant main entrance. He was the obvious architect of choice for Alvear, responsible for some of the poshest mansions in town. Buschiazzo incorporated the original structure into the new gate, adding columns & a frieze filled with symbols related to Christianity & naturally, death. Click on the links below to discover the meaning of each symbol:
Decorative circles at each end
"Rest in peace" in Latin tops the gate, leaving little doubt as to what's inside. The above symbols are also repeated on the interior façade of the gate along with a small bell & the phrase "Expecatamus Dominum." Taken from Philippians 3:20, it can be roughly translated as "We await the Lord."
The gate was listed as a National Historic Monument in October 2007.