Neglected by ADACRE & in the process of moving temporarily to Australia, I removed my map for sale from the internet. If they didn't need the assistance, so be it. Their less than lukewarm response did little to encourage further correspondence. But I still wanted to get the word out about the highlights of Recoleta Cemetery. So in the midst of packing, I began making a master map which I could use for any future project that came to mind.
It involved returning to the cemetery… a lot. During the first half of 2008 I went through 10,000+ photos, matched corresponding tombs to their locations & documented everything possible. I also wanted to maintain this blog while in Australia & had to plan for that. My apartment looked like a map explosion for several weeks: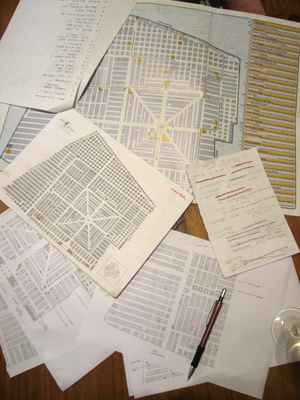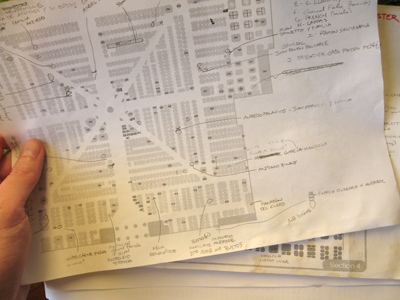 Most visits involved correcting info & fine-tuning the previous map. Counting pavement tiles, confirming angles & filming videos to mark exact locations may not be fun, but the end result was worth it: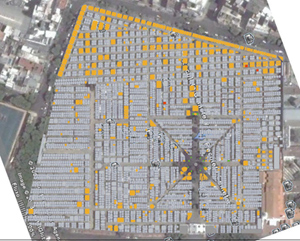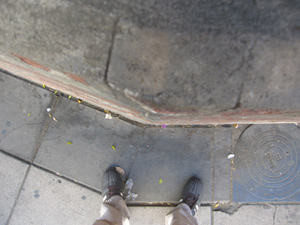 Stay tuned for the next release: a 20-page PDF handbook with information about the cemetery's history, the most interesting family vaults (approximately 70 in an easy-to-follow route), symbolism, & the complete story of Eva Perón's post-mortem travels.
With an expected release of March 2009, the handbook will be the most complete guide to Recoleta Cemetery available to date. I can't wait to put the finishing touches on it. Purchasing the PDF will be like taking this blog along with you or having a guided visit with zero time constraints. Not focusing as much on Argentine history, but the best experience short of hiring me personally 🙂
Read the complete story in the following posts titled "map development": Part 1, Part 2, Part 3, Part 4, Part 5 & Part 7. Good news! The PDF guidebook is now available.
12 Comments