During my last week in Buenos Aires before moving to Sydney, I wanted to make one final visit to Recoleta Cemetery. No camera, no notes… just stroll around & appreciate a place that I've come to know better than almost anyone. So today when Marcelo came up from La Plata to say goodbye, we decided to make that final visit together.
Good thing Mar brought his camera because it was the 56th anniversary of Eva Perón's death. Talk about an appropriate day to make my final call. With almost the same amount of flowers as on her birthday, the crowds were larger & there was much more Peronista propaganda taped near her family vault.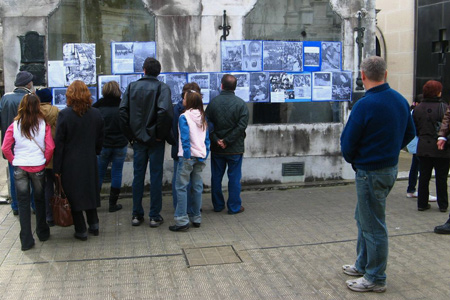 The going was slow, so I read more praise while waiting: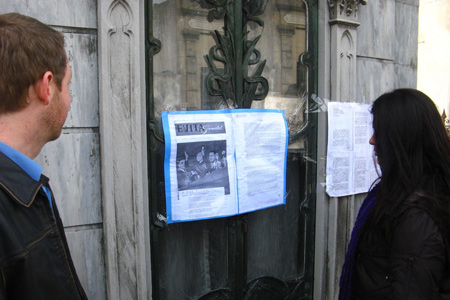 Lots of posters covered the door & a married couple hung around, explaining to everyone what the fuss was about: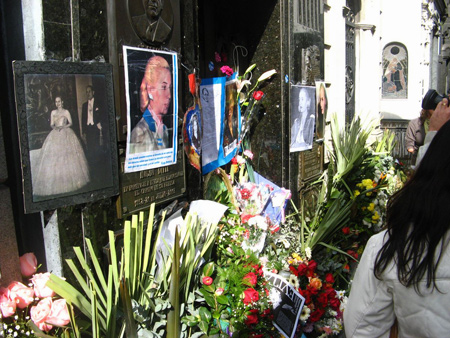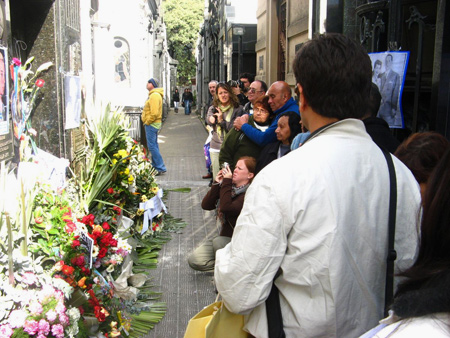 This was an interesting wreath given by the National Secretariat of the 62 Peronist Organizations… formed to keep the Peronist ideal alive after his ousting in 1955: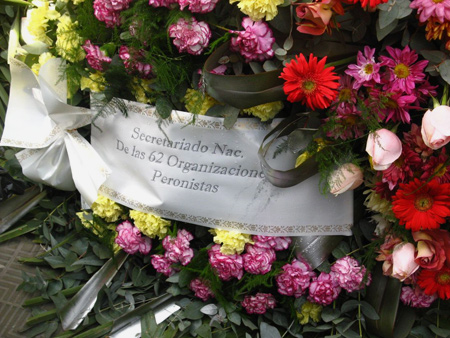 I've always thought that the surrounding families wouldn't appreciate such a spectacle. Eva Perón doesn't necessarily belong in Recoleta Cemetery—a subtle nuance that most visitors fail to understand. As a champion of the people & an enemy of the upper class, Eva should be resting in peace elsewhere rather than surrounded by those who would have likely hated her. So on any day when Peronistas make a fuss over the Duarte family vault, Eva's neighbors get plastered with images which are probably not very agreeable to them.
Regardless of political implications, the day was perfect for my last visit to Recoleta Cemetery… until I return to Buenos Aires next year.
Leave a Comment