In spite of a heavy workload & shifting focus to downtown Buenos Aires, I still considered publishing a guidebook to Recoleta Cemetery. But I couldn't even find time to finish the map. As a compromise, I decided to publish a walking route of what I considered the Top 50 tombs to visit. It wouldn't have the text of a guidebook, but I thought of it as the first step to a bigger project down the road.
During the summer of 2006-07, I stopped offering tours to work full-time on the map. By March 2007 it was ready for sale. There were a couple of typos that slipped by me, but for my first printed project I was happy with the final results. I had never dealt with printers before or even taken a course in graphic design. I couldn't complain: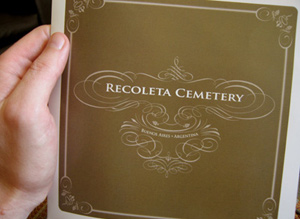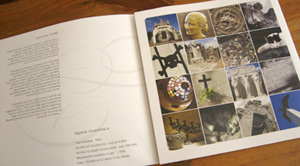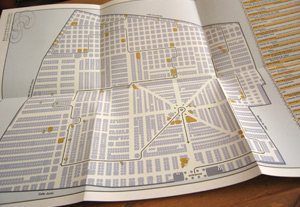 But distribution turned out to be a big problem. I talked with several kiosks around the city, & they wanted an extreme percentage of the profits. So that was out. I managed to obtain contact info for Horacio Savoia of the Friends' Association of Recoleta Cemetery (ADACRE). I'd always thought to use them as my main distribution mechanism… they sell their own map plus other items at the entrance gate, so I offered to give them 10% of the sale price (2 pesos per map).
I explained that I did not want to compete with their own map but only needed a sales point if someone requested my version. I could promote my map online, & we'd all get something out of it in the long run. I've previously mentioned that the price of the ADACRE map is 4 pesos & part of that money goes to fund restoration projects as well as the salary for the women that sell the map. Considering I was willing to donate 2 pesos per map & not even have them actively market it, the proposal seemed fair.
The last I heard from Horacio was in July 2007:
Previo agradecer su atención paso a decirle que he recibido sus dos correos. Ambos los elevaré a la Comisión Directiva para que en su próxima reunión considere su propuesta. Lo tendremos al tanto de las novedades.


Thank you for your correspondence as I have received your two emails. I will present both to the Directive Commission so they can consider your proposal in their next meeting. We will keep you informed of any developments.

My response: Thank you very much, & I will await the response of the DC. I can deliver a copy of the map so that you have it for the next meeting.
Since there was no mention of when the next meeting would take place or even the slightest bit of gratitude for the two years of work put into the map, I wasn't hopeful. In fact, I never heard from Horacio or any member of ADACRE again.
The whole scenario seems fairly typical for Buenos Aires. If you aren't part of the clique, then you have no input. But since the cemetery had been neglected for so long & restoration work is expensive, it seems reasonable that anyone willing to donate cash would be welcome. Apparently not so.
My alternative was to start this blog & offer the map for sale via PayPal. It worked well since I've since recovered the cost of printing, but that map is no longer for sale. Better things are in the works… not involving the Friends' Association.
Read the complete story in the following posts titled "map development": Part 1, Part 2, Part 3, Part 4, Part 6 & Part 7. Good news! The PDF guidebook is now available.