What a stunning statue of an angel gazing towards the heavens by Luigi Trinchero. Invited to Argentina by fellow Italian artist Victor de Pol in 1889, Trinchero directed a ceramics factory in La Plata that ultimately did not succeed. Soon after its closure, he returned to Italy.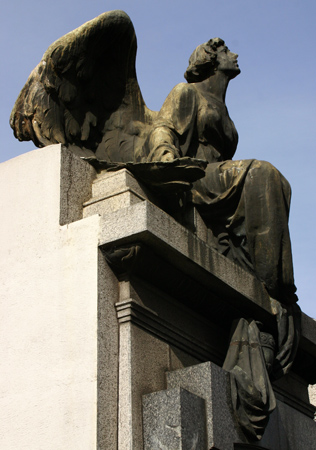 However, Trinchero came back to Argentina at the insistence of Carlos Morra & this time would succeed. He established a workshop to produce ornamental sculpture… exactly what Buenos Aires needed as many aristocratic porteños rekindled their European origins & a building boom began. Trinchero decorated the Centro Naval, churches, schools & most famously the Teatro Colón.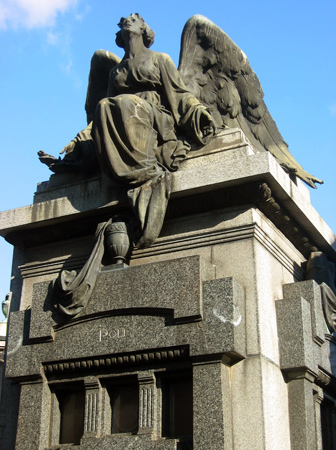 A descendant of Antonio Riva has generously shared his family history with us. A portion of his comment is copied here. Thanks, Agustín!
Antonio Riva, whose name is featured on top of the mausoleum's door is my great great grandfather. He was a wealthy Genovese born (who came to Argentina maybe in the 1860s) importer and salesman of food stocks in the late 19th and the early 20th century. He probably commissioned the sculpture from Trinchero at the same time the sculptor was famous for doing work in the Teatro Colon in Buenos Aires. The rest of the mausoleum was most likely built by other Italian workers who more or less made these in series, albeit really well. Antonio Riva's daughter, Emma Riva, who was fond of art and Italian artists – sponsoring painters such as Angel Della Valle – was maybe involved in picking the sculptor for the mausoleum. Emma Riva married Giulio Poli, and that is why the surname Poli was added.