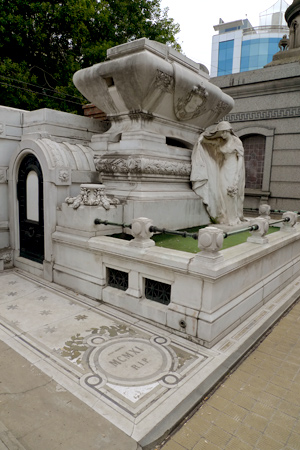 Young deaths are tragic to everyone, but it must be devastating to living parents. Inés Lucía Morra Victorica—known to her family as Baby—passed away in Paris at the age of 21, & her parents left no doubt about their sentiments. Below is the original inscription in Italian followed by a translation into English:
Raro esempio di grazia di bellezza di bonta, illuminando col sorriso la sventura, lenendo colla pietá il dolore. Baby Morra seppe con le doti eccelse della mente e del cuore vincere l'alta distinzione di un nome illustre. I genitori qui preceduti straziati inconsolabili seppellirono con essa il cuore, la pace, l'energia, la speme.

Rare example of grace, of beauty, of kindness, illuminating misfortune with a smile, relieving pain with pity. Baby Morra knew with her generous heart & mind how to overcome the distinction of an upper-class name. The parents here with inconsolable surrender bury with her emotions, peace, energy, hope.
The dedication gives some hint to Baby Morra's family background & her parents eventually joined her in the same mausoleum. Carlos Morra was the Marquis of Monterocchetta, born in Benevento, Italy in 1854. He trained to be a military engineer & arrived in Argentina during initial waves of immigration in 1881. Early collaboration with French immigrant architect Norberto Maillart allowed him to work on the centennial expo in Plaza San Martín in Buenos Aires. His military background was also put to good use by the Argentine government with several installations designed by Morra.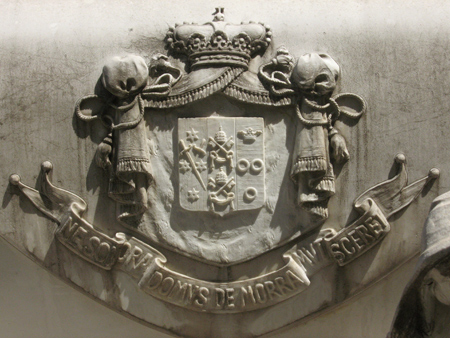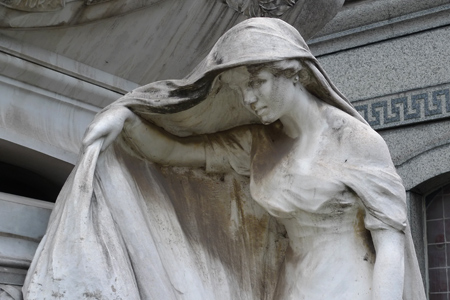 But the character of his work shifted from military to civic over time. Morra built the Palace Hotel on Avenida Alem for Nicolás Mihanovich in 1905, directly across the street from where the Mihanovich company headquarters would be located in 1912: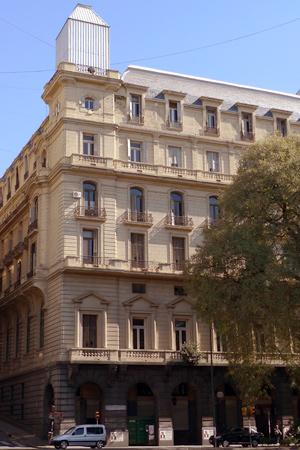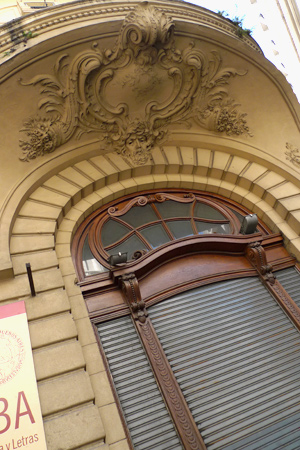 After designing several houses, Morra was appointed head architect for the Nacional Education Council (Consejo Nacional de Educación). A series of schools still in use today were built by Morra & left a distinct mark on Buenos Aires. Probably his most recognized school is that of Presidente Roca, located in a prime spot on Plaza Lavalle just across the street from the Teatro Colón: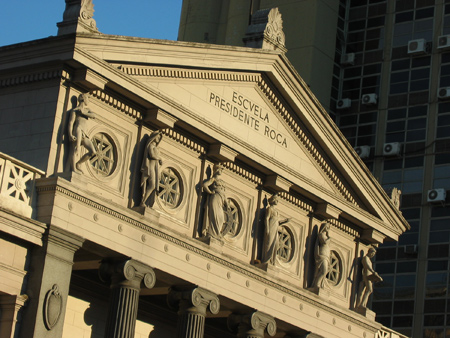 Another landmark building designed by Morra was projected to be headquarters for the National Lottery but instead became the National Library: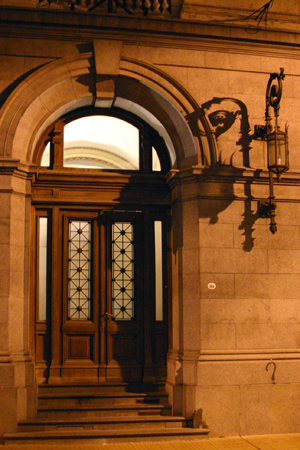 Morra continued to win recognition throughout his lifetime from both Argentina & Italy, was elected President of the Sociedad Central de Arquitectos several times, & continued to design buildings until his death in 1926. Also of interest, Morra has another construction in Recoleta Cemetery… a tomb for the Cascallares de Paz family: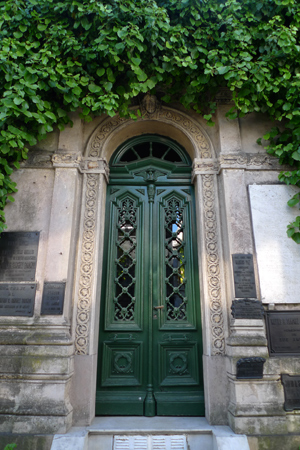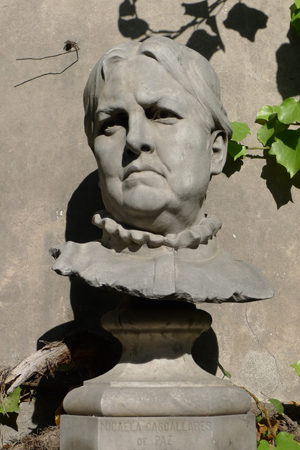 For further information about Carlos Morra's contributions to Argentine architecture, consult Alejandro Machado's blog: Arquitectos Italianos en Buenos Aires (in Spanish).