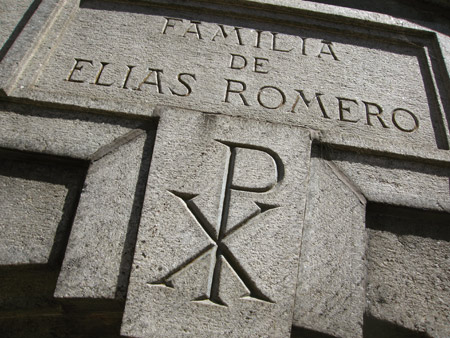 A low but spacious mausoleum near the rear wall of the cemetery contains one of the first big business families in Argentina. Dr. Elías Romero opened the Tienda San Miguel on the corner of Bartolomé Mitre & Suipacha in 1857, & the elite of Buenos Aires flocked to the new locale. Purveyors of carpets, curtains & all types of cloth-related goods, customers could take one square meter of fabric home with them to see how it would look… & according to the owners, all sample swatches were returned.
The department store was renovated in 1920 by local Art Nouveau architect, Julián García Núñez, who covered the façade with marble & installed a stained glass ceiling with an image of San Miguel killing a demon. The department store is closed these days, & it's difficult to get a peek of the interior since the building is only rented out for special events. At least it's still around: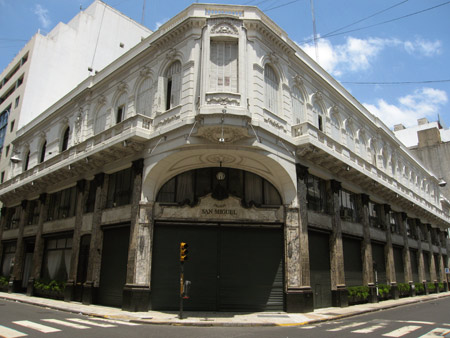 The following plaque reads: "To Sir Elías Romero Marull, tribute & remembrance from the staff of the Tienda San Miguel on the first anniversary of his death, 29 June 1947." The store is depicted as is Saint Michael in the heavens just above: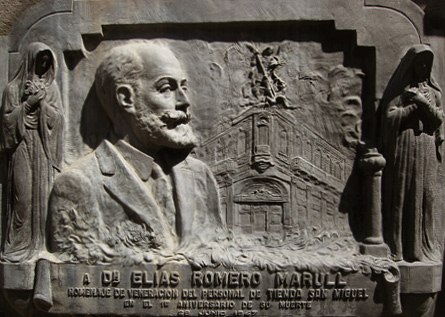 Update (17 Sep 2023): Further proof of Tienda San Miguel's success can be found in a full-page advertisement in the high society magazine "Aconcagua", published in 1930… recently made available by the Biblioteca Nacional de España.