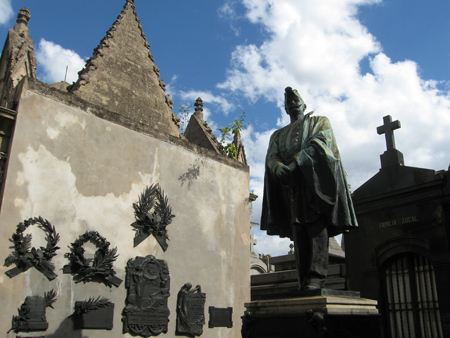 Tucked into the crowded, central section of the cemetery, the tomb of Rear Admiral Manuel José García-Mansilla is difficult to find… in spite of the impressive statue & many plaques.
Born in Buenos Aires in 1859, Manuel José seemed destined for greatness from birth. His mother, Eduarda, was one of the first women writers in Argentina & sister of Lucio Victorio Mansilla. His father was an original member of the Foreign Service who took Manuel José to the United States at a very young age, later finishing his education in France.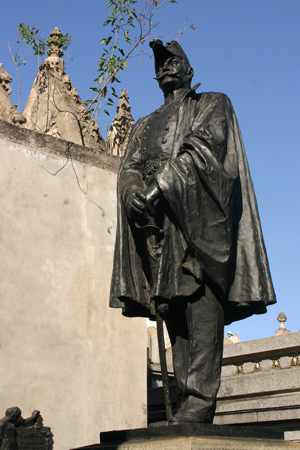 García-Mansilla showed an early aptitude for all things naval, likely influenced by his father's work in purchasing vessels for the Argentine Navy. He decided to remain in France for military training—common in those days since Argentina had yet to found its own naval academy. While in the Red Sea, García-Mansilla heard a "man overboard!!" cry & immediately dived into the water to the rescue. Decorated as a Chevalier in the Legion of Honor for his actions, he wrote a letter to his mother regretting the fact that her gift—a watch—had been ruined in the rescue attempt. But in return, he saved a life & earned the respect of the French.
As he ascended in the military, García-Mansilla helped modernize the Argentine fleet. He became an expert in torpedoes & coastal defense, even making adjustments to British designs. He also drew on his vast experience to standardize the Navy… implementing much needed regulations & adopting a common uniform.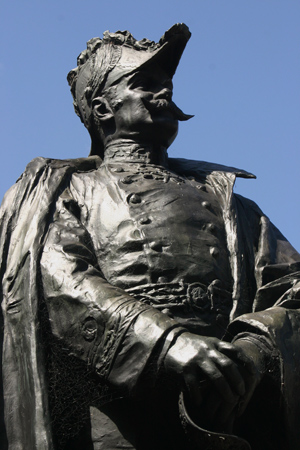 Later in life, García-Mansilla became one of the most pretigious directors of Argentina's own Naval Academy. But his most visible legacy in Buenos Aires was founding the Centro Naval in 1882. Elected as its first president, García-Mansilla believed that the camaraderie formed by social ties in the Navy were fundamental to its success as an institution.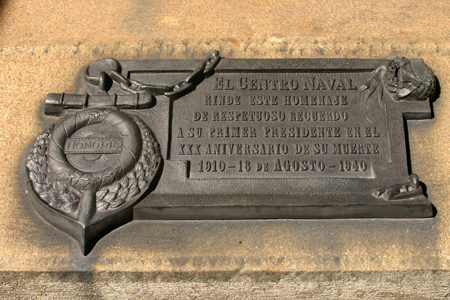 The Centro Naval changed location several times before finding its permanent home at the intersection of Avenida Córdoba & Florida in 1914. French architect Gastón Mallet designed a fantastic ballroom, dining facilities & a library for research & investigation. If you aren't one of the 11,000 members (!) with access to the facilities, be sure to take a guided tour: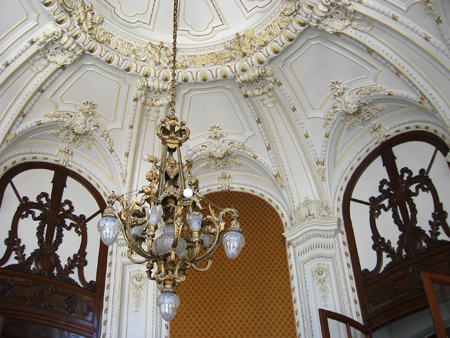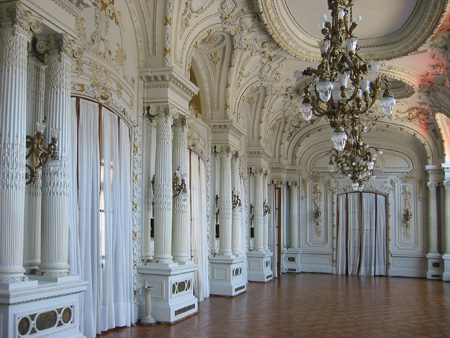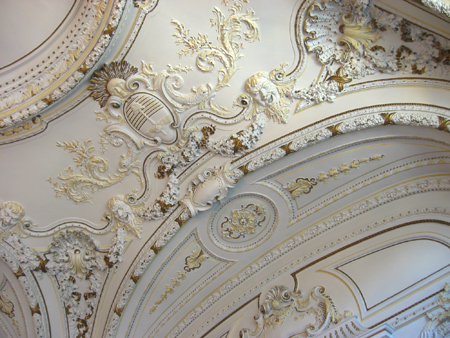 After participating in the May 1910 centennial festivities, García-Mansilla passed away on August 18th. As a tribute, the Naval Academy performs a service in Recoleta Cemetery every year on the anniversary of his death… I'll try to get photos to post here in a couple months. And since 1946, family descendants give the cadet with the most exemplary record a watch in commemoration of García-Mansilla's dedication.
Complete biography can be found here (in Spanish). The statue is signed J. Lovatalli, Roma 1913 but no data about the sculptor could be found online. Any info would be appreciated!
2 Comments