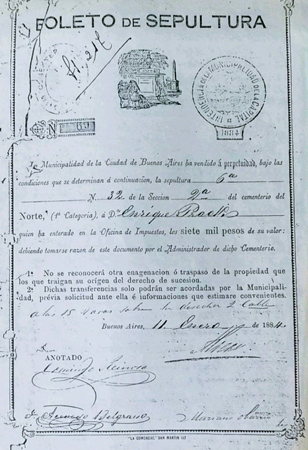 A rare family document appeared on Facebook, & the owner kindly gave us permission to share it here as well. This boleto de sepultura —roughly translated as a "burial certificate"— has many interesting bits of information, but first a translation:
No. 69

The Municipality of the city of Buenos Aires has sold in perpetuity, under the conditions outlined below, the sixth gravesite, No. 32 of Section 2 in the Northern Cemetery to Mr. Enrique Prack who has paid the Tax Office the sum of seven thousand pesos; this document should be registered by the Administrator of the above-mentioned cemetery.

#1 · No other sale or transfer of this property will be recognized except those with the right of succession.
#2 · Aforementioned transfers may only be granted by the Municipality, via official request and with corresponding information.

[handwritten note] At 15:00, to the right of the second street.

Buenos Aires, 11 January 1884

[followed by illegible signatures… there's a Belgrano & a Mariano Obarrio.]
Unfortunately the exact size of the plot is not recorded, but the price of 7,000 pesos in 1884 was a small fortune! Of course, determining an equivalent amount in terms of today's purchasing power is tricky.
According to the Banco Central, the peso had almost the same value as the English sovereign at the time. So the Prack family invested 7,000 pounds for their plot; a considerable sum given that one of the extremely wealthy members of the Anchorena family died in 1884 with a fortune of 7 million pesos. If that's the top tier of wealth in Argentina at that moment, this purchase represents a sizeable sum of money.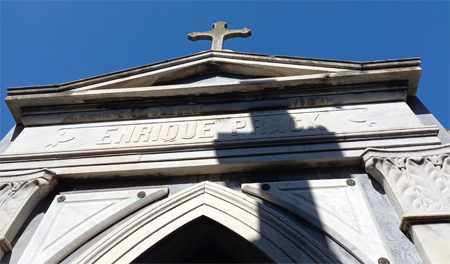 Also of interest is a legal clause stating the plot belongs to the family forever. Well, almost. Given that Catholic cemeteries are considered sacred places, contracts like the above should be considered leases. Even so, the city government made a large profit from the proceeds of plot sales. Remember that a major renovation of the cemetery took place in 1881, & the city likely needed income to cover construction costs.
Enrique Prack (son, I believe) was a lawyer & wrote his thesis on crime & ideas behind penal codes. The mausoleum continues to be maintained by family descendants.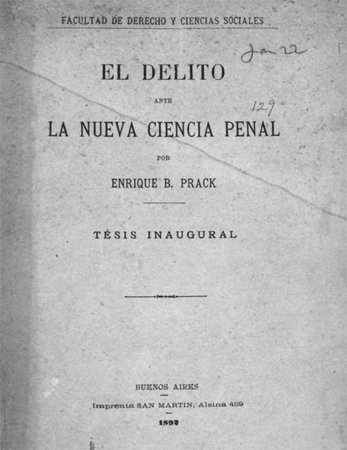 Note: Image used with the kind permission of the Prack family.