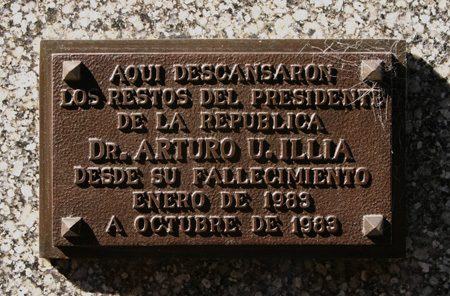 We love a good mystery…
Aquí descansaron los restos del Presidente de la República Dr. Arturo U. Illia desde su fallecimiento enero de 1983 a octubre de 1983

President of the Republic, Dr. Arturo U. Illia, laid to rest here from his passing in January 1983 until October 1983
President Illia had been forced from office by a military coup in 1966, another victim of the revolving door of democracy & dictatorship in the 20th century. The Argentina Independent has a good article describing Illia's last day in office. As a high-ranking member of the Unión Cívica Radical, he was entitled to be buried in a mausoleum dedicated to those who had died in the 1890 revolution: a conflict that gave birth to that political party. Obviously he was moved there in October 1983, but why did Illia spend 10 months in this spot? A Presidential sash inside is another reminder of his temporary stay.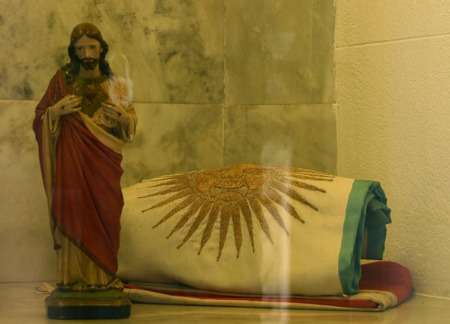 At first I thought this family might be related to Illia's wife, Silvia Elvira Martorell Kaswalder. She had been undergoing treatment for cancer in a Texas hospital when Illia was forced from office in 1966. Silvia passed away only a few months later back home in Córdoba & was buried in Recoleta Cemetery in the tomb of Hipólito Yrigoyen's mother. Several decades later, she moved to a separate vault. A search in Genealogía Familiar turned up nothing to relate either Illia or his wife to the Dechert-Barletti family.
According to a 1977 edition of the Boletín Oficial, Jorge Luis Dechert & Ernesto Alberto Barletti formed a company called Nininco that specialized in radio & television components as well as albums & cassette tapes. The business venture no longer exists, so even that extra info was a dead end.
If anyone has information as to why a former President temporarily rested in peace here, please help us solve this mystery!