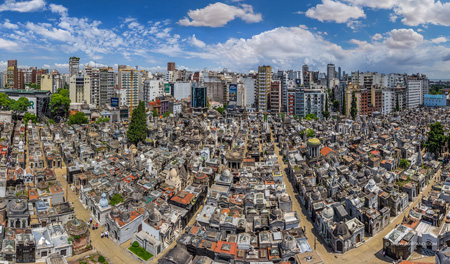 Things have changed since this blog began in 2007. Few knew what a drone was in those days & probably never suspected they could be acquired by civilians to give us a new perspective on cities we know & love. AirPano has done just that. Their story of recording footage in Buenos Aires was spot on… nope, those warnings are not to be taken lightly!
As one of the top sights in the city, I'm glad they decided to share the dense beauty of Recoleta Cemetery. Try to find the mausoleum where Eva Perón is buried… just look for the line of tourists 🙂
Click here for the full 360º aerial experience of Buenos Aires. #4 is Recoleta Cemetery. Thanks for sharing, AirPano!