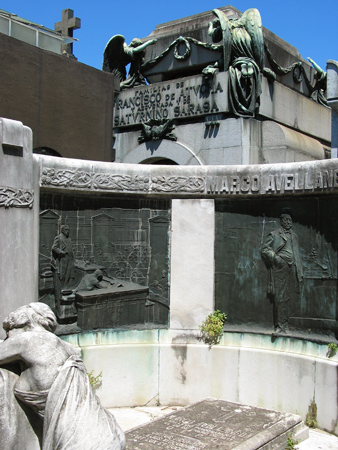 Imposing but built on one of the more narrow paths of the cemetery, the mausoleum for the Familias de Francisco de Atucha y Azcuénaga y de Saturnino Sarasa is notoriously difficult to photograph. Even more difficult to see is the beautiful stained glass window inside… but it's worth the effort: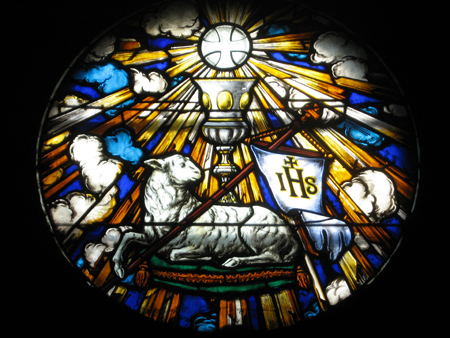 At the beginning of the 20th century, Jorge Atucha purchased some 35,000 hectares from the Duggan family. The estate, located on the northern border of the Provincia de Buenos Aires, took the name "El Pelado"—perhaps Jorge was balding at the time!—& soon became a thriving cattle ranch. The family's fortune grew when a branch of the Urquiza train line arrived to the estate in 1913 & carried its products to the capital. The station was named Sarasa after the last name of Jorge's mother.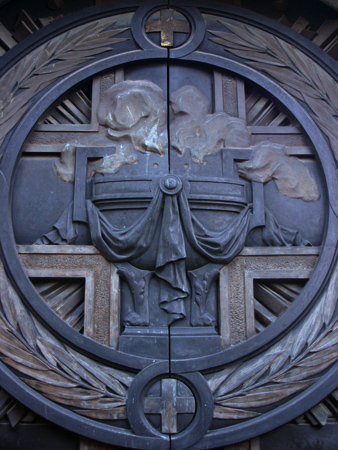 As the estate grew, so did the number of people needed to work it. By 1925, a small town began to emerge in order to provide services to estate workers. Unfortunately "El Pelado" did not survive the political & economic crisis following the departure of Perón. In later years, the last military dictatorship stopped train service, & the town currently has a population of under 100 people.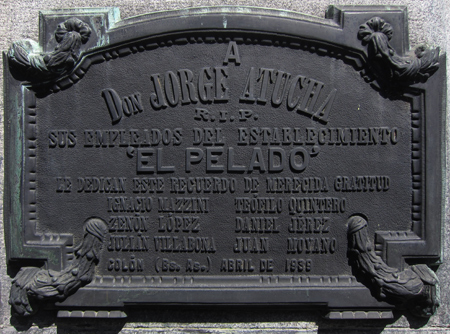 But the estate is still recognized as one of the oldest & best breeders of thoroughbred race horses in the nation. And in spite of fortunes that come & go, the Atucha family obviously did very well for themselves. Their tomb was designed by French architect René Sergent, although he never visited Buenos Aires. The beautifully crafted door & crowning angels would certainly draw much more attention if this tomb had been built on a main walkway.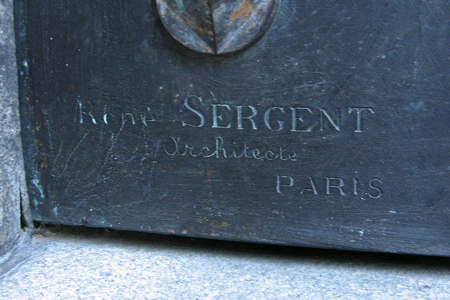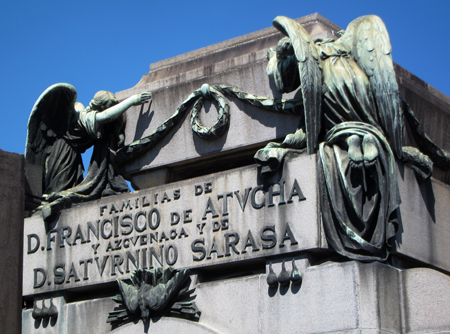 When the Atuchas spent time in Buenos Aires, their residence was located near Recoleta Cemetery on chic Avenida Alvear… just opposite the Palacio Ortiz Basualdo. Sold long ago, the house was divided into several apartments & contains one of the few faux, painted façades in Buenos Aires & is easily visible from busy Avenida 9 de Julio.