Alejandro Machado should be thanked for continuing his quest to find forgotten & uncatalogged masterpieces by famous Buenos Aires architects. Earlier this year, he needed help finding the location of a particular vault in Recoleta Cemetery… supposedly designed by Mario Palanti, architect of the Palacio Barolo on Avenida de Mayo: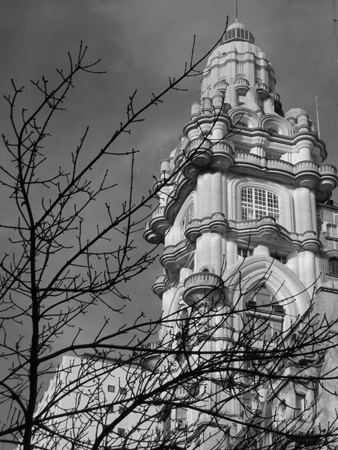 Graduating in 1909 from the same Milanese architecture school as Virginio Colombo, early recognition of Palanti's talent brought him to Argentina the following year. A former professor included him in the team to construct the Italian pavilion for Argentina's centennial celebrations. A hit with the public, young Palanti opened his own studio & began designing for the porteño elite. He lived in Buenos Aires until 1929 with the exception of World War I when he volunteered to serve his native country.
According to Machado's source material, Palanti designed the tomb of Sebastián Vasena. Big, oversized, & located on a narrow walkway, it's easy to miss & even more difficult to photograph. A ring of cherub heads with wings decorate the dome, & two eternal flame sculptures flank a large angel on the door. Even more stunning is the interior stained glass… only visible if the light is just right: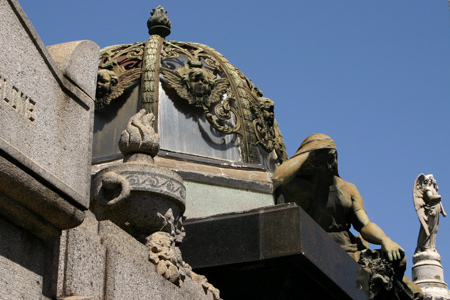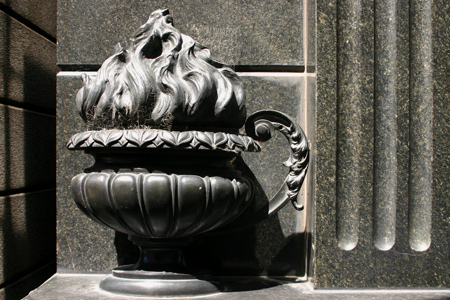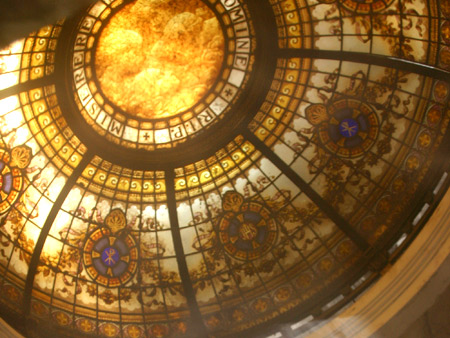 Although unsigned, Machado is still trying to confirm if the Vasena vault was in fact a Palanti creation. The same source also credits Palanti for designing the Spinetto family tomb. Could the most spectacular door in the cemetery also be the work of Palanti??