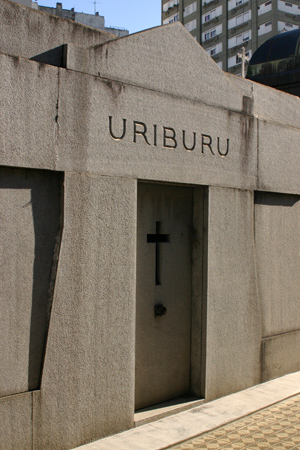 Born in Salta in 1868, José Félix Uriburu joined the Military Academy located on the outskirts of Buenos Aires at the age of 17. Five years later, he would participate in the birth of civil society in Argentina during the Revolución del 1890. But he would soon part ways with the Radicals.
When President Luis Sáenz Peña resigned in 1895, Vice-President José Evaristo de Uriburu—his uncle—took over. The younger Uriburu became his uncle's assistant & got first-hand experience in government. In 1905 he helped President Manuel Quintana stifle another attempted Radical coup.
Uriburu continued to move up swiftly through both military & political circles. He was sent to Europe to learn techniques to improve the Argentine military & soon after elected as a representative for his native province of Salta in Congress. After obtaining the rank of Division General, Uriburu retired against his will… but would soon return to be the center of attention.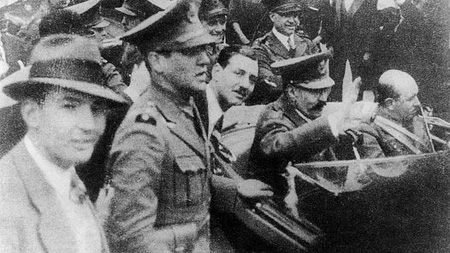 Uriburu led the first military coup in Argentina in 1930. Ousting democratically elected Radical President Hipólito Yrigoyen, historians credit Uriburu with starting military involvement in politics… a trend that would lead to a series of military takeovers until 1983. Conservative & very Catholic, Uriburu called for elections but annulled results when the Radicals won. In fact, Uriburu ushered in what historians call the "Infamous Decade" where democracy was only given lip service.
Eventually Uriburu handed the presidency to military colleague General Agustín P. Justo in 1932. Diagnosed with stomach cancer, he went to Paris for treatment but died soon after arrival. His funeral service in the Église Saint-Pierre-de-Chaillot seems extraordinary, especially since the church also held funerals for Guy de Maupassant & Marcel Proust. At least we have an impressive visual record: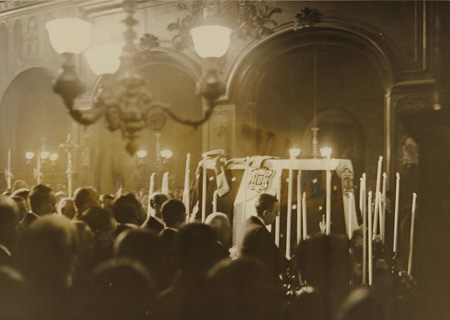 After services in Paris, Uriburu's remains were brought by ocean liner to Buenos Aires. Services held at his residence led to a temporary burial at the tomb of Ramón Falcón… that fact speaks volumes. Just look at the number of people entering the cemetery. Wow.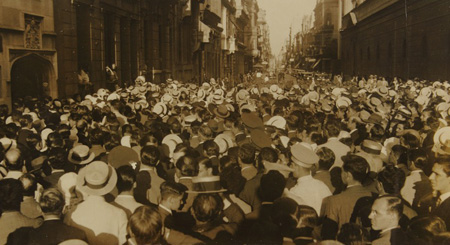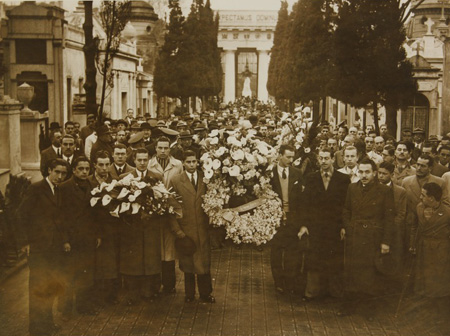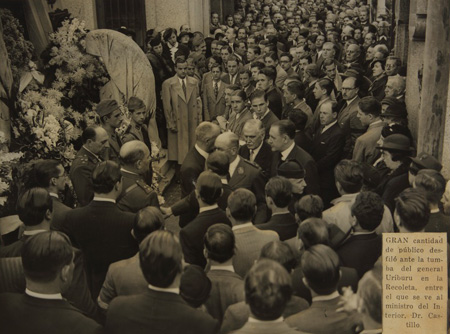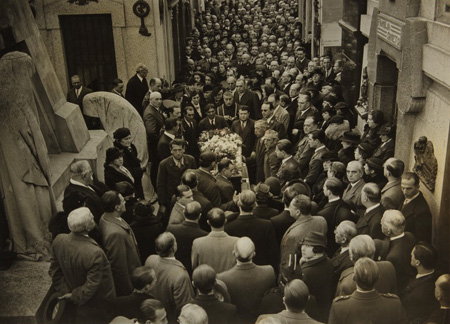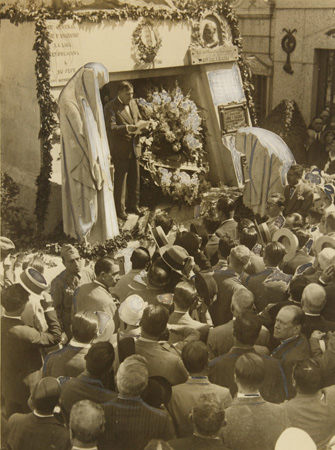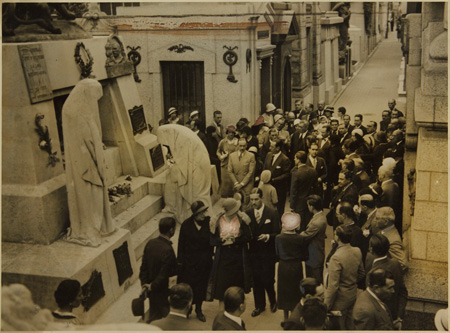 Currently Uriburu's mausoleum is unkempt & unadorned… perhaps his family fell on hard times. Whatever the reason, Uriburu's legacy to Argentine history—good, bad or indifferent—has disappeared from public view in Recoleta Cemetery. Find the plaque below in the photos above… a piece of history few remember: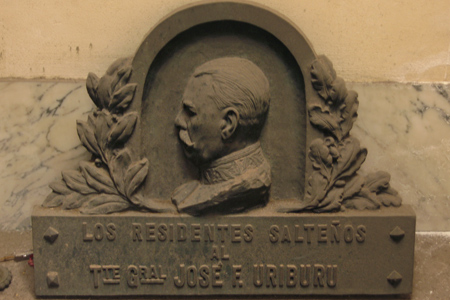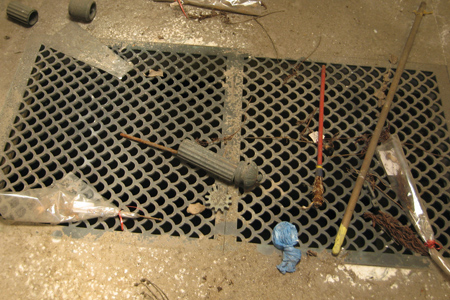 Update (14 Apr 2013): One important reminder of Uriburu's legacy remains in the town of Balcarce, about 400 km or 250 mi south of Buenos Aires. Originally meant to glorify, a bit of historical revision has occurred with the only statue of Uriburu in Argentina.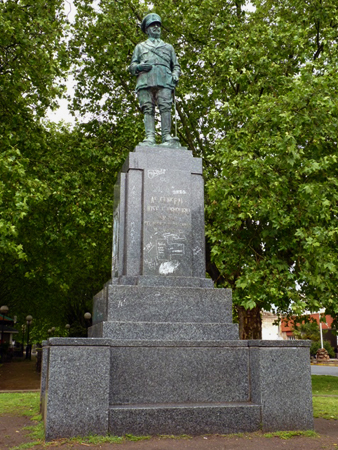 A new plaque placed in June 2012 reads:
Este monumento fue emplazado en el 6º aniversario del primer golpe de estado en Argentina. El general José Félix Uriburu atentó contra la Constitución Nacional el 6 de septiembre de 1930. Este nefasto acontecimiento abrió paso a una serie de violaciones al estado de derecho y a los derechos humanos de la población, impuesto por los gobiernos de facto que interrumpieron el orden democrático, signando décadas de inestabilidad y autoritarismo en nuestro país.

This monument was erected on the sixth anniversary of the first coup d'etat in Argentina. General José Félix Uriburu defied the national constitution on 06 Sep 1930. This horrific deed opened the way for a series of violations of the rule of law & of the population's human rights, imposed by de facto governments that interrupted democratic order, ushering in decades of instability & authoritarianism in our country.
Archival photos from the British Library Endangered Archives Programme. Balcarce photo courtesy of Marcelo Metayer.