Please note that as of Aug 2015, this app is no longer for sale! The PDF version is still available (see below).
—————————————————-
Regular readers might notice a new button in the sidebar… yet another way to experience Recoleta Cemetery is available! Our new venture, Endless Mile, is now live & we selected Recoleta Cemetery as the subject of our first travel app for the iPhone/iPod touch.

A significant advance in mobile device technology has allowed this particular dream to come true. The PDF guidebook, first made available in Jan 2010, has been very well received but the app version makes a visit to the cemetery much more interactive.
High quality, color photographs—a trademark of this blog—have been incorporated as well as an explanation of additional symbols & archival images. This app presents a new way to visit the cemetery & explains why it remains the number one tourist destination in Buenos Aires.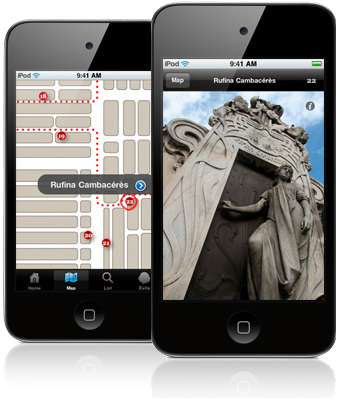 Easy-to-use & fun to navigate, the cemetery's top 25 tombs are highlighted in the walk. Both fans of urban legends & history buffs will find something of interest, & the app wouldn't be complete without a description of the cemetery's most famous resident, Eva Perón. Known simply as Evita to her devotées, her bizarre post-mortem journey is described in detail.
We're excited to launch our company with the only app dedicated to Recoleta Cemetery. It engages those who are interested in learning more about the cemetery & makes sharing a visit with friends & family easy. The best thing about this app, however, is that it's like consulting a tour guide whenever you want.
Thanks for your support!