Although it's well documented that the cemetery opened in 1822 & was later improved in 1881, there's very little info in print about the official organization of family vaults. The following questions always get the best of me: How was it originally divided? What were the original limits of the cemetery? How did the current layout come about?
Fortunately, I found a book that provided some insight. During the last military dictatorship 30 years ago, a series of books & articles were printed by the city government under the collection name, Cuadernos de Buenos Aires. Elba Villafañe Bombal wrote #52 of the series in April 1974—published four years later in 1978—titled "Itinerario Histórico de Recoleta: Arte y Leyenda." The volume is a valiant effort at cataloging the cemetery although there is a good bit of misinformation.
Obviously Bombal knew Recoleta Cemetery very well & was thorough in documenting its condition then, but perhaps she wasn't the art & architecture historian she believed herself to be. Not to discredit her work, but several publications in later decades took Bombal's text for granted without verifying sources. And to be fair, she credits a 1956 source by Jorge Kaudi called "Guía de Visitantes." But that handbook is only a series of lists & cannot account for so many errors.
The one thing that intrigued me about Bombal's book was the organizational map of the cemetery. I've reproduced it below using my own map as a guideline: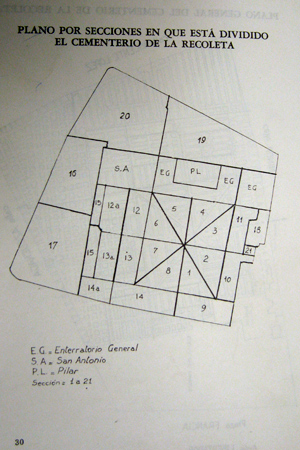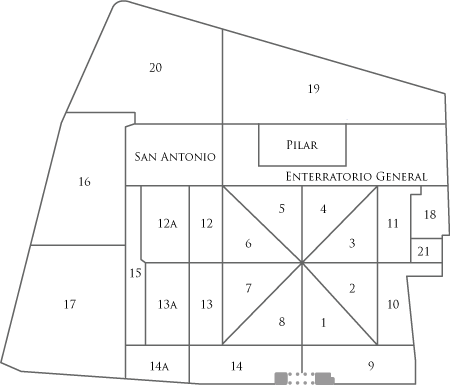 If sections were numbered as they needed to be used, then a sensible progression follows. I would make the assumption that sections 1 through 15 plus the named sections were the original limits of the cemetery. The anomaly of sections 18 & 21 were probably added later… which explains why that area is slightly higher than other parts of the cemetery.
Looking at the intersections while walking around also reveals some clues. Little signage is available to guide the visitor, but painted words & numbers at ground level guide the staff within the various sections: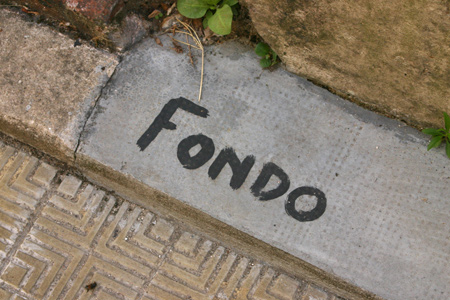 More investigation to come…