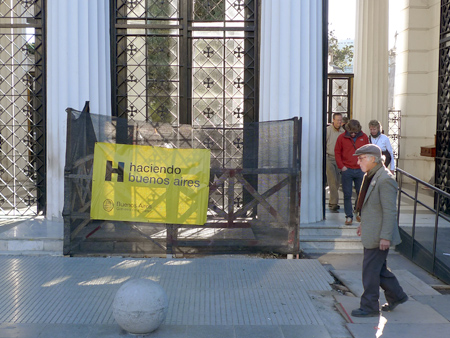 As reported by every other blog concerned with saving the architectural heritage of Buenos Aires, the entrance gate staircase for Recoleta Cemetery is currently being demolished. Just like that. No one could have foreseen that repavement of the sidewalk adjacent to the cemetery could have generated such a blatant disregard for the city's  biggest tourist attraction.
The need for some sort of change of the staircase comes from poor planning. By using thicker, pre-fabricated sidewalk tiles, the new sidewalk level is higher than the original & exceeds the base of the staircase:
As reported by Sergio Kiernan in a mocking article appearing in Página/12's architecture supplement m2, workers began breaking up the Carrara marble staircase with hammers before Teresa de Anchorena (member of both city & national heritage organizations) found out about the destruction on May 20th. She contacted Jorge Sábato—city Subsecretary for Urban Projects, Architecture & Infrastructure—reminding him of the mistake being made. According to Kiernan, Sábato did not respond to Anchorena's communiqué. It was too late… several local residents had already taken pieces of staircase marble home with them as souvenirs.
Sábato's next-in-command Miguel Ortemberg sent a letter six days later to the National Commission of Museums, Monuments & Historical Places requesting advice on how to modify the cemetery's staircase after the damage had already been done: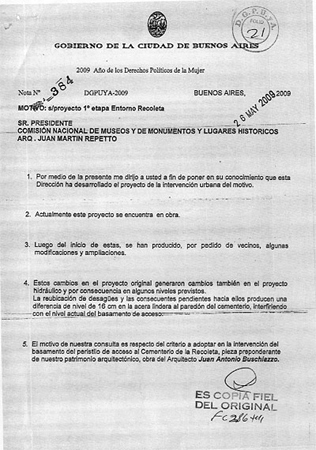 Days passed while Sábato & Ortemberg submitted a variety of documents to the city legislature claiming that there would be drainage problems given the new sidewalk level. Only one solution existed & the marble staircase would be removed & stored for any future solution or modification. All lies. Another problem they cited was the lack of a permanent disability ramp for cemetery access. Adding insult to injury, both Sábato & Ortemberg are degree-holding architects. Their solution was destruction over preservation.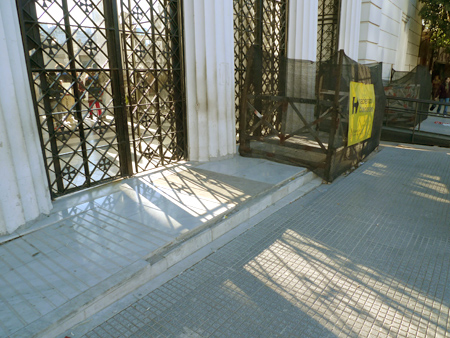 With officials like Sábato & Ortemberg in charge, there is little question why so much destruction of the city's architectural heritage  has happened in recent years. In spite of being listed as a National Historic Monument in 2007, the cemetery entrance gate has lost an irreplaceable part of its foundation & only serves to demonstrate the ineffectiveness of local & national government. At the very least, Sábato & Ortemberg should be removed from their posts & fined for the cost of replacing the staircase… an exorbitant amount given that 5 cm thick pieces of Carrara marble are rarely found these days.
———————————–
Update (25 Jan 2010): Six months of inaction & the cemetery entrance remains a construction site. After completion of the ramp, the makeshift barricades pictured above remained in place for several months. Only recently has an attempt been made to hide from plain sight the destruction of the staircase. A scaled photograph of the column bases currently wraps around half the entrance gate until city authorities decide what to do: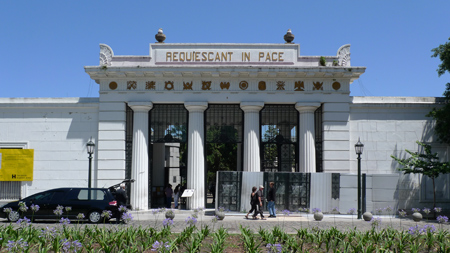 Leave a Comment