If you notice scaffolding surrounding a tomb or mausoleum in Recoleta Cemetery, don't worry. It's not a demolition project.
I plan on donating 10% of map profits to the Asociación Amigos del Cementerio de Recoleta in order to help a good cause. Since 2002, the Friends' Association has coordinated the restoration of the tombs of historically important figures. Most sculptures & monuments are generally around 100 years old so pollution, climate change, & invasion by plants & microorganisms can do a lot of damage over time. Also, plots are normally purchased for eternity so if a family leaves Argentina, has no descendants, moves their family to another cemetery, or does not pay the monthly maintenance fee, the mausoleum slowly decays over time.
From stop #6 in our PDF guide, three completed restoration projects can be seen. The first is a General José María Pirán whose bust decorates his vault:
The large, unfinished column houses the remains of the adopted son of one of Argentina's most beloved presidents, Domingo Faustino Sarmiento. His son, Dominguito, was buried here after being killed in the war with Paraguay: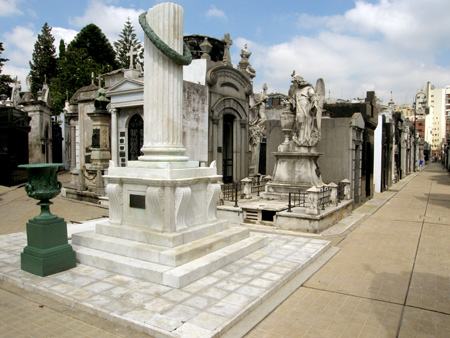 An obelisk crowned with an angel is popularly known as the Cenotaph of the Three Friends. A cenotaph means that this is just a memorial & no remains are buried here. Evidently these three were such good friends that their loved ones wanted to remember them as a trio. You can see a plaque as well as a symbol of what each man did as you walk around. Alberto Viola was a prolific writer & politician (with books). Adolfo Mitre was son of President Bartolomé Mitre & a poet (hence the lyre). Benigno Lugones was a writer for La Nación newspaper (which is his symbol). Oddly enough all three died within a year of each other: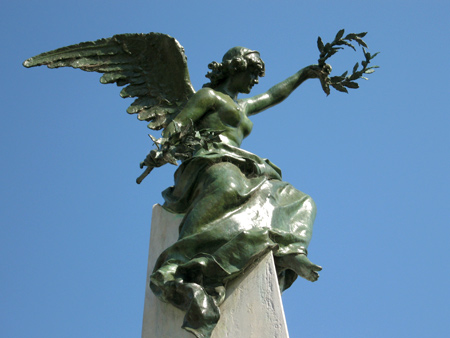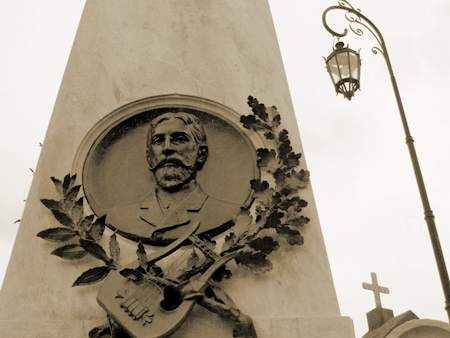 In the long run, ADACRE never responded to my offer of donating 10% of map profits. Basically I put that cash into maintaining this blog, but it would have been nice to make a contribution.
Leave a Comment