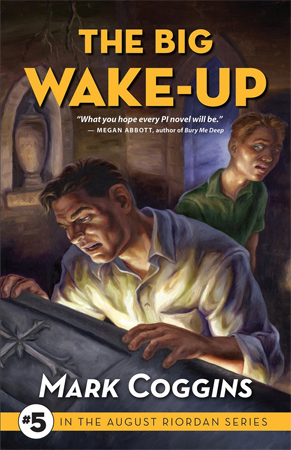 What if Evita is not in Recoleta Cemetery? What if she is actually in the Bay Area?
That's the premise behind author Mark Coggins' latest book in the August Riordan series. San Francisco-based private investigator Riordan witnesses the tragic death of a beautiful university student from Buenos Aires & is drawn into a mad hunt for Evita's remains. Mark's promo sheet goes on to say:
He needs all of his wits, his network of friends and associates, and an unexpected legacy from the dead father he has never known to help him survive the deadly intrigue between powerful Argentine movers and shakers, ex-military men, and a mysterious woman named Isis who is expert in ancient techniques of mummification.
How could you not want to read a book like that? To be honest, it's surprising no one has done this before given Eva's bizarre post-mortem journey. The story would make for a great movie too. Mark was nice enough to send me a pre-release copy where I found the following: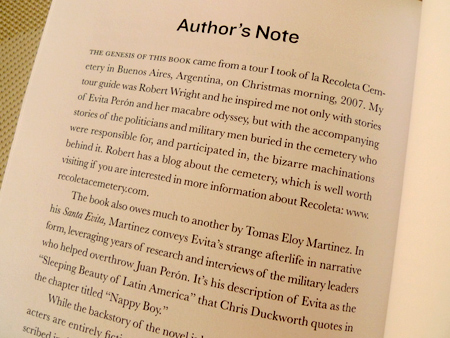 The genesis of this book came from a tour I took of la Recoleta Cemetery in Buenos Aires, Argentina on Christmas morning, 2007. My tour guide was Robert Wright and he inspired me not only with stories of Evita Perón and her macabre odyssey, but with the accompanying stories of the politicians and military men buried in the cemetery who were responsible for, and participated in, the bizarre machinations behind it. Robert has a blog about the cemetery, which is well worth visiting if you are interested in more information about Recoleta.
Makes me wish I was still doing tours of the cemetery 🙂 In the few spare moments I've had since returning to Buenos Aires one month ago, I've read the book & can definitely recommend it. The character of August Riordan is textbook PI, & Coggins deftly takes the reader into his underground world. Check it out!