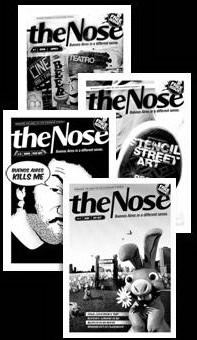 More press for AfterLife… yea!
Editor Hernán Cortiñas contacted me & Marcelo a few months ago about an article for the November/December edition of The Nose. It hit the press recently, & we couldn't be more pleased. The Nose promises to deliver "Buenos Aires in a different sense" & they certainly do.
As a free bi-monthly publication in tabloid format, issues focus on explaining more than just BA basics, give visitors insider tips not found in any guidebook, & present it all with a fantastic, modern design. Be sure to grab a copy & learn something new about the city.
Below are a couple pics from the current issue, including the article about Recoleta Cemetery: