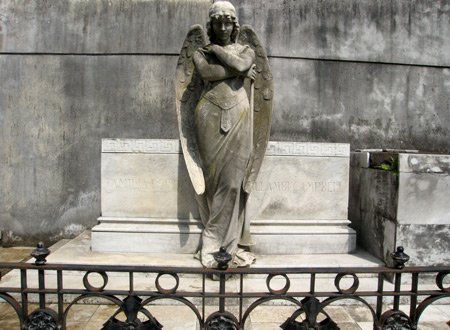 This gated family vault uses only underground storage with little ornamentation above except for one of the most beautiful angels in the cemetery. Paulino Llambi Campbell owned a large amount of land in the Argentine province of Santa Fe & named the area & town after his family.
The angel holds a trumpet in one hand while crossing her arms over her chest. The slightly bowed head is hardly demure… she has a very come-hither look on her face. Add some sensual curves & this is one of the most femme fatale statues in Recoleta Cemetery: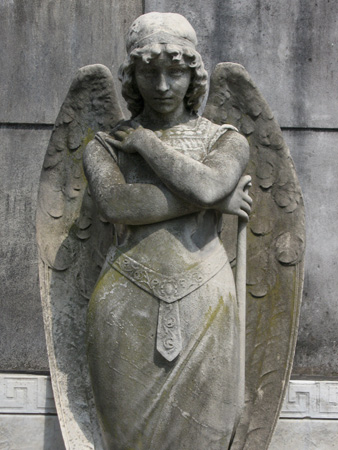 But this statue is not unique. Inspired by a similar angel in Staglieno Cemetery in Genoa, Italy, she makes the Recoleta version seem absolutely tame. The original was made by Giulio Monteverde, an Italian artist who trained Lola Mora & Victor de Pol as well as sculpting the crucifixion inside the entrance gate chapel. Thanks to Sergio Sanginisi for taking such a wonderful photo: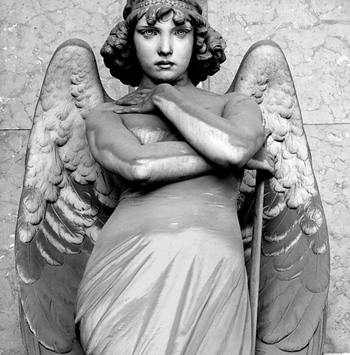 Just above the staircase which descends into the family vault is an inscription in French, "there is no death except for the one who is forgotten." Thanks to Sergio for helping with the translation: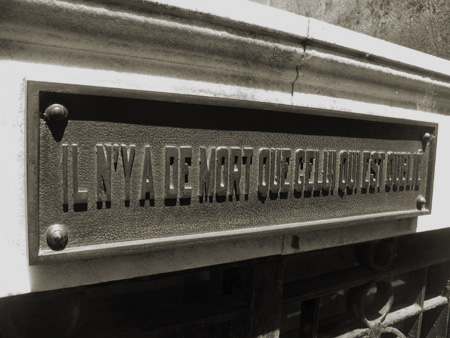 Update (08 Feb 2012): Thanks to the online Witcomb Collection, older versions of Recoleta Cemetery are coming to light. A nearby plot (four mini-blocks to the right) originally belonged to Vicente Ocampo & displayed a more accurate copy of the Staglieno masterpiece. Unfortunately only the Llambi Campbell copy survives today, & the Vicente Ocampo plot has been sold & divided into four sub-plots. I wonder what the Ocampo family did with their copy???