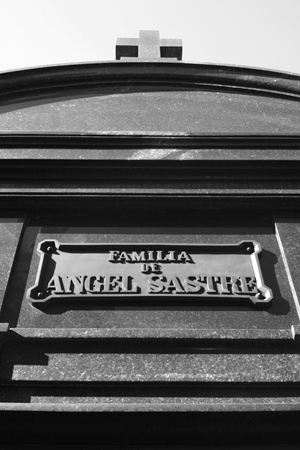 Born in what would become Uruguay in 1808, Marcos Sastre was one of those rare figures in literary history who made contributions by supporting the arts instead of being a prolific writer. In 1835 his bookstore —the Librería Argentina— transformed into the Salón Literario & the nation's first public library. Sastre's 1,000 book collection could be consulted by anyone who registered & soon became a meeting point for students, the elite & anyone with political aspirations.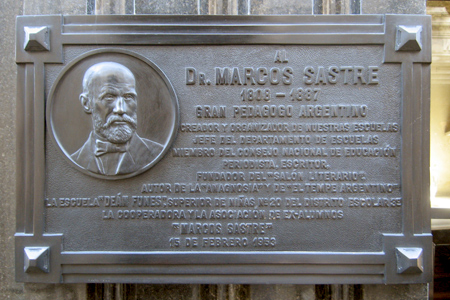 The most important topic of the time was national organization. Argentina had recently separated from Spain & fought difficult internal & foreign battles to define the nation. Sastre & his colleagues were between 20 to 30 years old & included recognized names like Esteban Etcheverria, Juan Bautista Alberdi, José Marmol, Carlos Tejedor, Florencio Varela, Juan María Gutiérrez & Miguel Cané. Fortunately this center for debate can still be visited —it continues to operate as a bookstore— one block from Plaza de Mayo at Adolfo Alsina & Bolívar: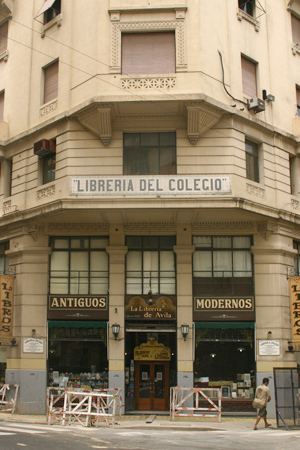 Spirits were high in those days with so much to be accomplished, but consensus proved impossible to obtain. Etcheverria became frustrated at the lack of direction & scarce original literature he thought necessary to define the Argentine experience 200 years ago. His 1837 epic poem "La Cautiva" highlighted the classic Argentine struggle of civilization vs. barbary. Alberdi & Sastre opposed the group when they saw a viable alternative in Juan Manuel de Rosas:
El refrena las pasiones, mientras las virtudes se fortifican, y adquieren prepondernacia sobre los vicios. La paz y el orden son los grandes bienes de su gobierno.

He restrains passions, while virtues grow stronger & gain prominence over vices. Peace & order are the greatest gifts of his government.
If only that were true. Rosas soon showed his true colors—power hungry & a desire for complete control. In 1838, the magazine "Moda" published by Sastre was censured by the government & the Salón Literario was forced to close. Persecuted by Rosas, Sastre left the city to live in the Tigre Delta where he finished his own book, "El Tempe Argentino," a Darwin-esque natural history text accompanied by illustrations & surprisingly modern commentary about environmental policies & conservation.
Sastre later became known for developing a system to teach children how to read, used in Argentine primary school for decades. Travelling throughout the country, his status as an educator allowed his books to be widely distributed. Sastre died in the town of Belgrano in 1887 before it was incorporated into Buenos Aires. A simple plaque marks the spot where he passed away, now a series of Neocolonial houses built by Martín Noel. Supposedly buried in a local cemetery, Sastre's remains were later transferred to Recoleta Cemetery… at least there's some agreement about the day he died if not the year: