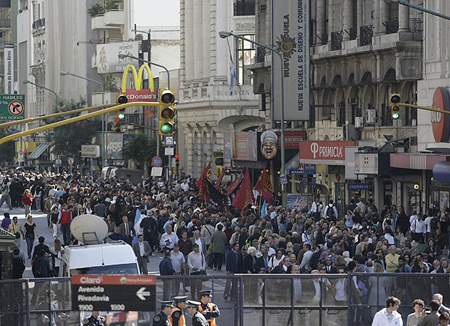 From early morning, hundreds of people queued to pay their final respects to former President Raúl Alfonsín who had passed away the night before. His casket was brought to the National Congress at 10:00 & after a brief ceremony, the public began to pour in. Vice-President Julio Cobos was present during most of the morning: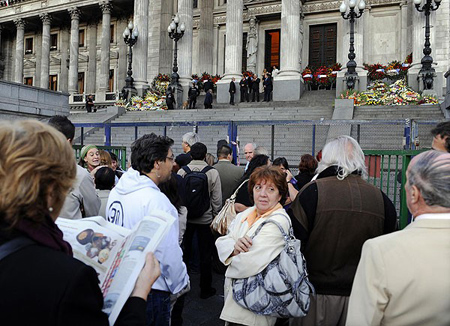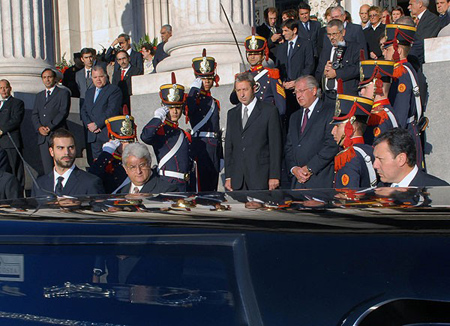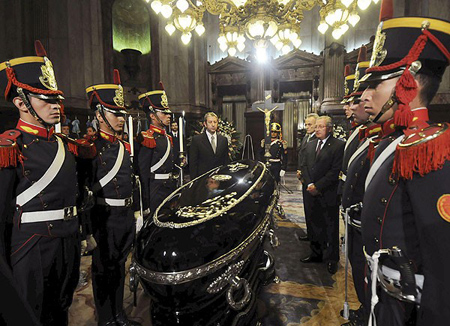 The wake was open casket, & Alfonsín had been decorated with two trademarks of the Presidency: a sash replicating the Argentine flag & a bastón. The public filed by at the foot of the casket, just out of reach. Special guests such as relatives, local & foreign politicians, or friends were able to access the body & express their condolences to  family members present. All this time cameras rolled & the entire event broadcast live on Senado TV, Canal 7 & several of the news networks: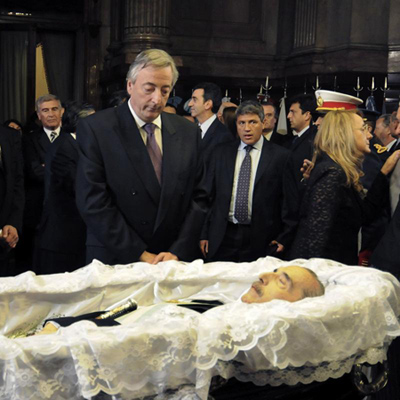 When crowds grew larger throughout the day, the decision was made to keep Congress open all night. An estimated 30,000+ people were able to express their gratitude one last time to Alfonsín.
—————————
With the funeral scheduled for 12:00 the following day, Recoleta Cemetery was surprisingly calm. At the 1890 Revolution pantheon where Alfonsín would be laid to rest, the only person to be seen was the caretaker. He descended a staircase to the entrance & came up a few moments later. When asked if everything was ready for tomorrow, he said: "Sure. It's all taken care of."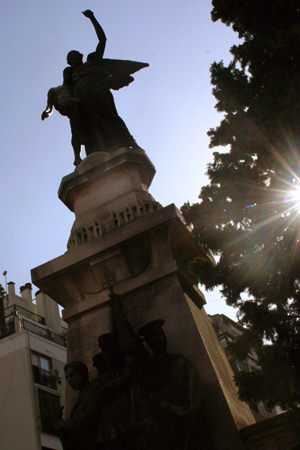 Looking inside, it didn't seem as if anyone had been moved to accomodate Alfonsín. Yrigoyen was still top center. Only a few flowers & a decorative ribbon with the UCR political party's colors decorated the door: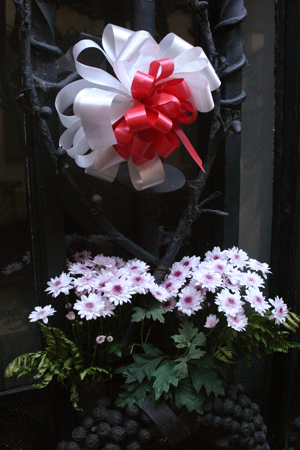 Asking around, it turned out that the cemetery was to be closed to the public the following day. Scaffolding was going up immediately in front of the entrance gate where several people had been invited to speak about Alfonsín. The Policia Federal were getting a little antsy… they even told Flor she had to stop selling maps at 16:30 so they could get to work. Maybe there would be a way inside tomorrow…
Photo credits: 1 – Aníbal Greco, La Nación • 2 & 3 – Federico Guastavino, La Nación • 4 – EFE • 5 – Rafael Saralegui, Europa Press • 6 & 7 – Robert Wright