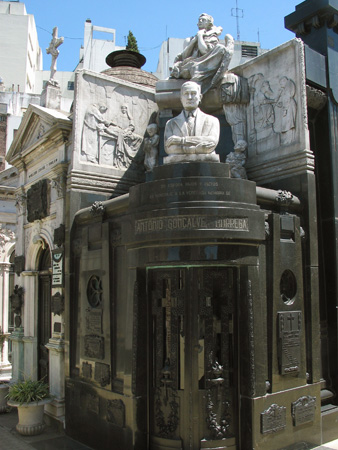 Located on a prominent corner near the far-right section of the cemetery, the family mausoleum of Antonio Gonçalves Borrega has always been a bit of a mystery. Plaques say one thing while imagery shows another…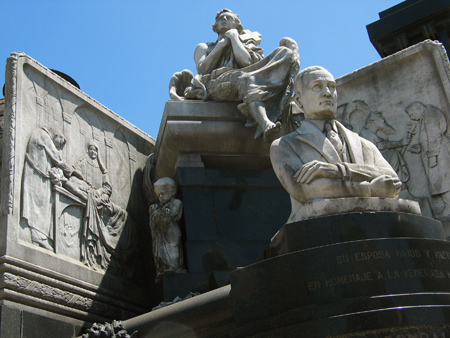 Reliefs with medical scenes decorate the top: the left panel appears to be a surgery or perhaps an autopsy, while the right panel looks like Asclepius healing a sick person. The original occupant must have been a physician, but new owners occupied this mausoleum in 1950.
One plaque is dedicated to the wife of Antonio, Joaquina da Conceição Braz, & another names Antonio as the owner of a fábrica de envases… this would most likely be a glass bottle factory or perhaps factory that produces packaging like containers, boxes, etc.: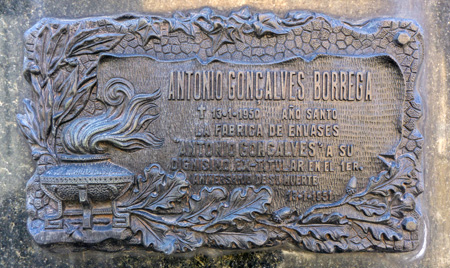 The 1942 Anuario Kraft —a huge guide to regional commerce— mentions the Gonçalves factory was located at Calle Venezuela 538 in Buenos Aires. Other attempts to find business references have turned up nothing.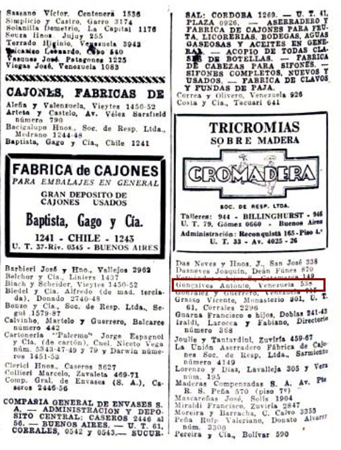 One other source states the mausoleum first belonged to "Dr. Ferrari," but we have no proof to confirm or deny that claim. Finally, we've always wondered if the bust above is of the previous owner or of Antonio??? Yet another Recoleta Cemetery mystery to be unraveled…