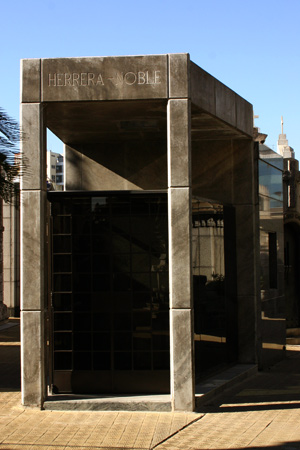 Roberto Noble founded Clarín on 28 August 1945 & is currently the most widely distributed newspaper in Argentina with over 400,000 copies printed daily… notable for retaining the tabloid (not broadsheet) layout to this day. The entire first edition was released as a PDF for its 50th anniversary in 2005. Below is that first front page headlining the atomic bomb dropped in Nagasaki & subsequent end of World War II: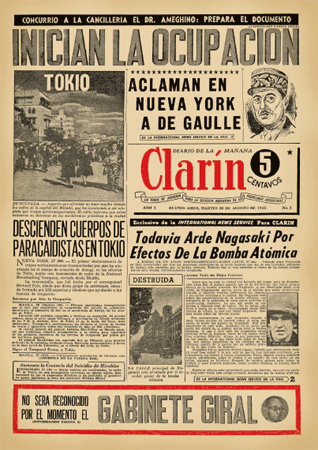 After Noble passed away in 1969, his wife—Ernestina Herrera de Noble—has successfully managed the paper. In the 1990s, she branched the company into all types of media. Currently the Grupo Clarín owns:
an AM station (Radio Mitre)
an FM station (99.9)
the AGR publishing facility
multiple regional newspapers
a national news agency (DyN)
the Canal 13 Buenos Aires public tv channel
three major cable stations (24-hr news coverage with Todo Noticias, sports coverage with TyC & classic Argie programming with Volver)
the Multicanal & Cablevisión cable networks
much, much more!
Herrera de Noble appeared in the news in 2002 after being indicted for adopting two children during Argentina's last military dictatorship (1976-83). The children were up for adoption since their parents had been killed by the government & supposedly figured among the nation's estimated 30,000 desaparecidos. The trial was later ruled in Herrera de Noble's favor & charges dropped. But the results weren't good enough for some people… additional DNA screenings performed in December 2007 proved negative for two families claiming to be birth relatives. Important not only for healing wounds caused by a dictatorship 40 years ago, other families will likely think twice before attempting to claim the enormous fortune of Herrera de Noble.
The adopted children underwent further DNA screening in July 2011, with results compared to the national DNA database of families who had children stolen during the years 1975 & 1976. All results were negative & hopefully the issue has been put to rest. At this point, many feel a formal apology should be issued since President Cristina Fernández de Kirchner & Grupo Clarín have been at odds for years… CFK likely hoped to send Ernestina Herrera de Noble to prison for human rights violations.
The Sociedad Argentina de Actores y Compositores de Música left a beautiful wreath in January 2008 on the anniversary of Noble's death. During his time as a Representative in Congress, Noble pushed through a 1933 law establishing intellectual property rights.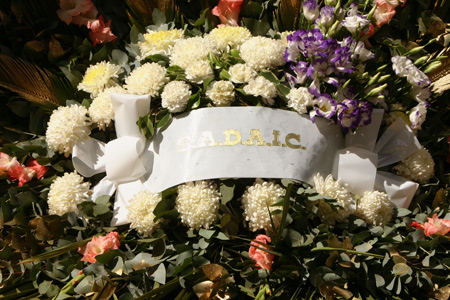 Ernestina Herrera de Noble passed away on 14 June 2017 at the age of 92. Clarín published an extensive biography of her life & success at the helm of company holdings. Three weeks before she passed away, Herrera de Noble was absolved from another court case backed by CFK's former government. Ernestina had the last word after all.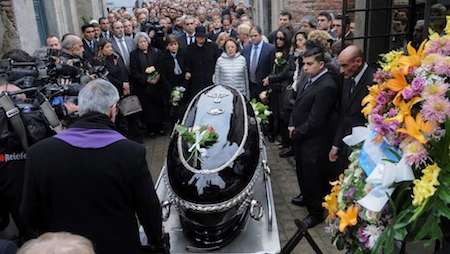 Last image published in the online edition of Clarín.