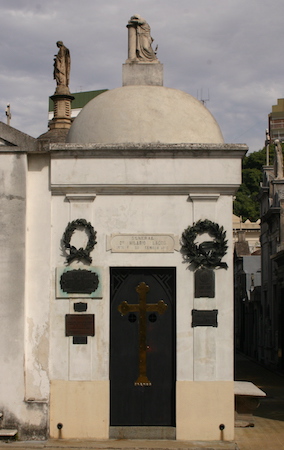 Born in 1806 in Buenos Aires, Hilario Lagos had a life-long military career & participated in most major conflicts during Argentina's formative years. He grew up just as the nation gained independence from Spain, & the constant conflict of that time drew him to the army. Lagos enlisted just before his 18th birthday & quickly rose in the ranks.
Local skirmishes against indigenous tribes prepared Lagos for his first international conflict. Brazil had declared independence from Portugal in 1822 & then tried to extend their control all the way down to the Río de la Plata… incorporating territory that formed part of Argentina. Losing the war, Brazil's failure created a new nation: Uruguay.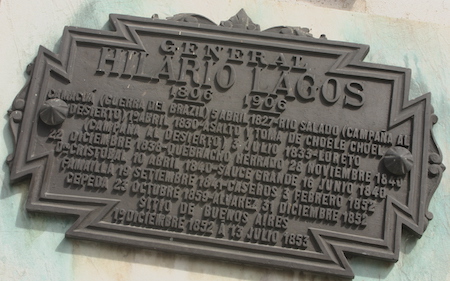 Lagos gained more military experience as he joined the private army of Juan Manuel de Rosas & continued to push back the native frontier. All these previous battles proved invaluable during Argentina's internal conflict for the role Buenos Aires would play in national politics: economic capital or part of a confederation? The future of the country hung in the balance with Lagos caught in the middle.
He stayed true to Rosas until the bitter end, but after defeat Lagos switched sides in an attempt to bring about a more peaceful resolution. Buenos Aires did not take kindly to Lagos, whatever side he chose… after Buenos Aires became capital & the idea of confederation was discarded, they confiscated all the territory Lagos owned & forced him to live away from the city in exile. In 1857 Lagos was offered a command position to fight indigenous tribes yet again, but he refused. He passed away & was buried in Recoleta in 1860. Although a central figure in Argentina's history, the legacy of Lagos is overshadowed by many others. However, many of his descendants also joined the military & even became high-ranking officers, carrying on a family tradition of national service.