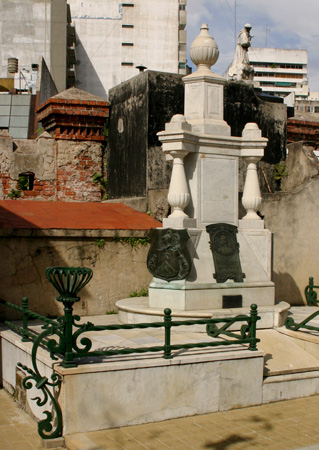 Straddling the east wall & tucked away near a corner, the simple tomb of Brigadier General Juan Martín de Pueyrredón receives few visitors. One of the founding fathers of Argentina, his memorial seems almost low-key compared to some of his contemporaries.
Born in 1777 in Buenos Aires, his father passed away when he was only 14 years old. That event would change his life. Sent at the age of 18 to Cádiz, Pueyrredón took over his father's export business & continued increasing the family's fortune. He also took the opportunity to travel in Europe before returning to Argentina in 1805. He'd married his cousin two years earlier, but she passed away (also in 1805) due to complications from a miscarriage. Influential & well-received back home, Pueyrredón first tried to act as a liaison when the British invaded Argentina the following year. But he soon decided to fight & joined local forces that would defeat the British.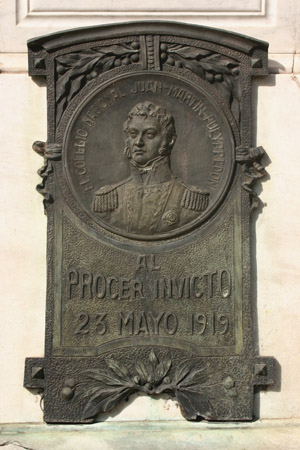 Although sent to Spain as a regional representative, Pueyrredón returned just in time to join the 1810 revolution that began his homeland's struggle for independence. He was not a successful soldier in the following years but was named to replace Juan José Paso in the First Triumvirate —a prototype executive branch in the newly-formed United Provinces of the Río de la Plata. Alongside San Martín, Pueyrredón organized army & naval forces against the Spanish.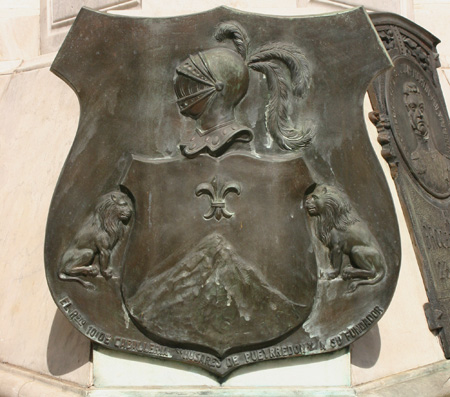 In 1815, Pueyrredón returned to Buenos Aires to marry his second cousin… he was 39 while she was only 14. Times have certainly changed! The following year he was elected as Supreme Director for the national government at a constitutional congress. Pueyrredón founded the national bank & continued to send funds & supplies to San Martín as troops marched toward Perú.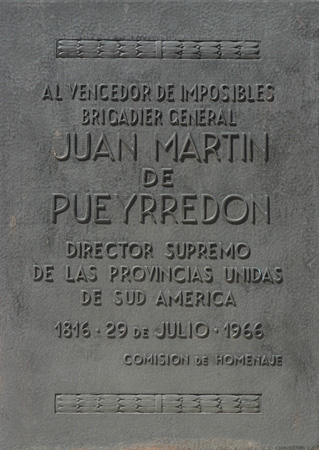 Unfortunately, those early years of independence proved difficult to survive. Discontent brewed within the new government & in 1819, Pueyrredón was forced to resign & eventually went to Montevideo in exile. The political situation changed constantly & he was allowed to return to Buenos Aires two years later. In 1823, his wife gave birth to a boy —Prilidiano— and lived a comfortable life on her family estate in San Isidro. In a brief return to politics, he tried to negotiate an agreement between Juan Manuel de Rosas & Juan Lavalle but to no avail. Leaving for exile in Europe once again, Pueyrredón returned to Buenos Aires in 1849 & passed away a few months later. He left behind a long legacy of public service & commitment to Argentina.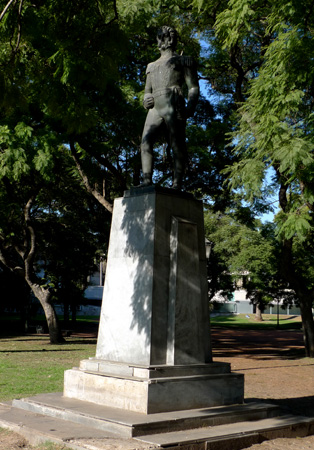 In spite of such a modest tomb, commemoration of Pueyrredón can be found throughout Buenos Aires: his statue decorates Plaza Chile in Palermo (above), a major north-south avenue (ending just behind the cemetery) connects Recoleta with the Once train station, & a small neighborhood in the western part of the city was named after him in 1907.