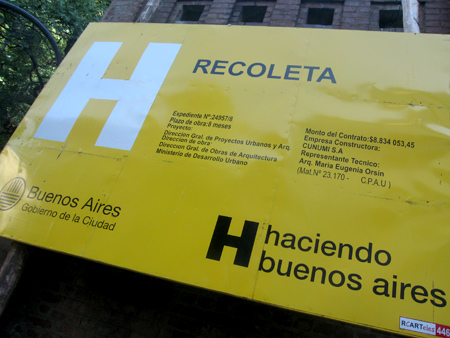 Back in Buenos Aires after living 7 months in Sydney, the biggest change on my first return visit to the cemetery was obvious before I even walked inside. New sidewalks are being installed around the perimeter, & it's about time. When I left BA in July 2008, mayor Mauricio Macri had begun peppering the streets with big, yellow signs for public works… probably because he had little visible evidence of his administration after 7 months in office.
Although I never posted about it, one thing that upset me most about the city government was the neglect of access to the cemetery. Damaged, purplish cement—often stained & reeking from garbage deposited by the strip of restaurants across the street—was the first impression millions of tourists had of Recoleta Cemetery. Good riddance: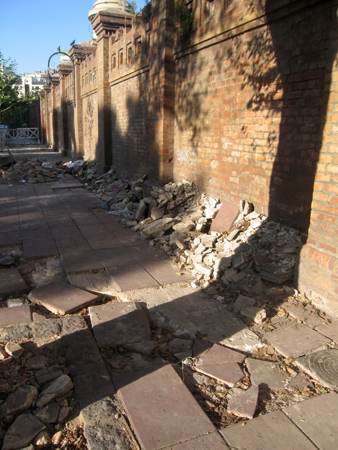 According to signage, the project will take 8 months & has a budget of almost 9 million pesos. Currently that's about U$S 2.5 million—a huge investment. The company responsible for sidewalk installation (Cunumi) is the same one currently used for the restoration of plazas & parks. What a huge contract that must have been. At least they use the same tiles chosen by previous administrations & help give Buenos Aires a more uniform look: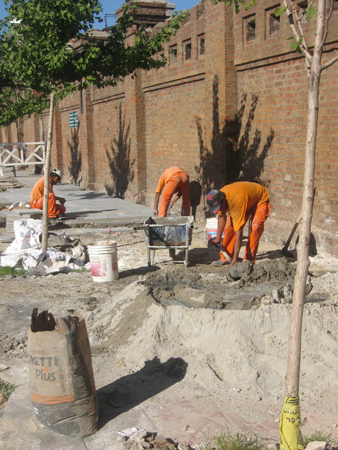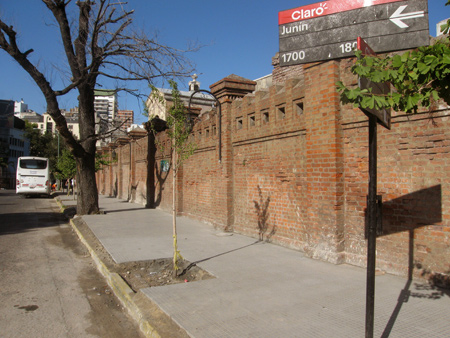 I was also glad to see that the gingko trees planted during ex-mayor Telerman's attempt to green BA were still alive & being protected. Gingkos are rarely seen in BA & will add a nice touch to the cemetery in a few years.