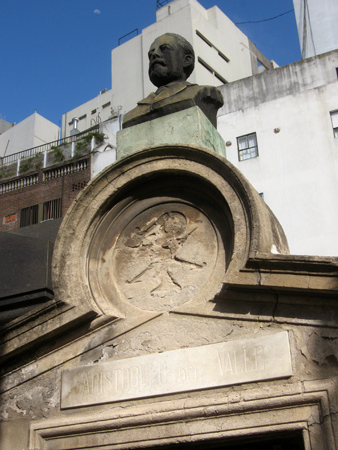 Born in 1845 to a rural family who had supported Rosas & later participated in the Conquista del Desierto, Aristóbulo del Valle was sent to Buenos Aires for a university education. While studying law, the devasting war with Paraguay erupted. Del Valle dropped everything to participate then returned to complete his degree.
With recognized literary & debating proficiency, it didn't take long for del Valle to select a cause—universal male suffrage—& move into national politics. Surrounded with friends like Leandro Alem, Dardo Rocha & Carlos Pellegrini, his beliefs became increasingly radical for the time. With Alem, del Valle founded the Unión Cívica political party & participated in the 1890 Revolution against President Juárez Celman… while serving as Senator. A strong sense of duty forced him to resign since he had taken part in anti-government actions while serving as an elected official, but the public absolved any guilt by re-electing him. Two plaques commemorate his political acts of the time: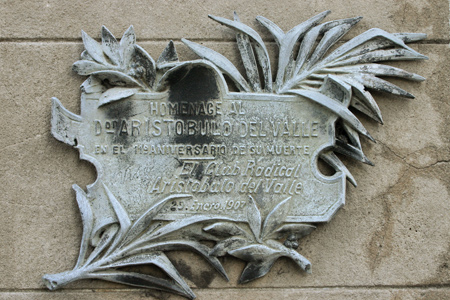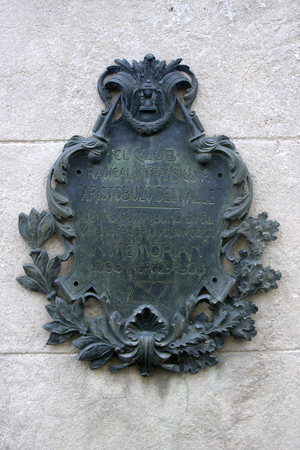 Three years later under the presidency of Luis Sáenz Peña, del Valle was asked to serve as Minister of War & propose cabinet changes. From this position he tried to incorporate Alem & others into the government so they could officially institute changes denied by the earlier, failed revolution. But Alem refused & another revolution in 1893 was planned… without the participation of del Valle this time. Del Valle passed away soon after in 1896 in his office at the School of Law.
This tomb was one of the first two ever to be declared a National Historic Monument in 1945. Without many windows & tinted door glass, it appears to be yet another neglected tomb. But glancing inside reveals one of the most beautiful statues in the cemetery… preserved from the elements (although a bit dusty) & missed by almost every visitor [see comments for more info about the statue]: