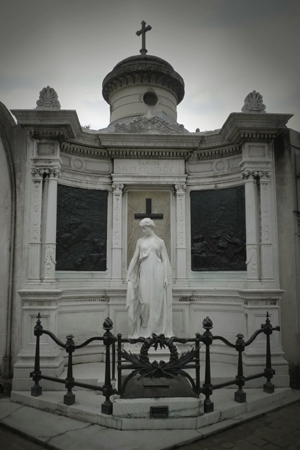 Local entrepreneur David Costaguta made most of his fortune from the manufacture & sale of textiles between Argentina & Europe at the end of the 19th century. Like most nouveau riche in Buenos Aires at that time, Costaguta decided to use his wealth to play around in the real estate market. But where to buy??
Plaza Lavalle underwent drastic change just as Costaguta looked to develop. The lot occupied today by the Teatro Colón originally held a train station… the terminus for the first railway built in the nation. In 1890 the station moved further west to Once, tracks were removed & the new opera house built in the same spot. Army barracks were likewise demolished to make room for a new Supreme Court (Tribunales).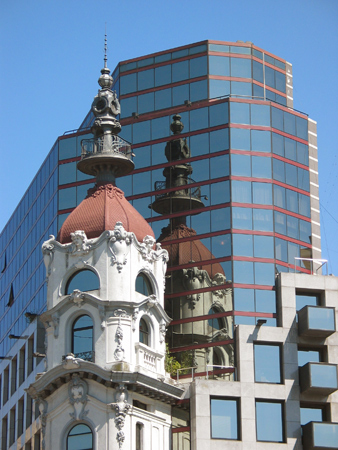 Costaguta bought the lot next to Tribunales & hired French architect Alfred Massüe to design a four-story building destined for both business & residential use. Work finished in 1907, & the Palacio Costaguta became another focal point for the plaza. Its tower & dome are still one of the most recognized pieces of Art Nouveau in Buenos Aires… even though a large portion of the building was demolished in 1988 & replaced with a rather horrific, glass office tower. Fortunately the Banco Fotográfico Digital run by the National Library contains a photo of Massüe's masterpiece before modification: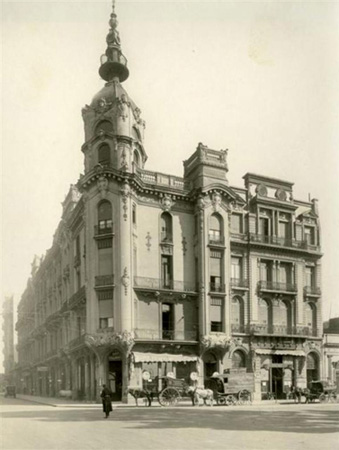 Costaguta's tomb supposedly dates from 1907, but the architect responsible is unknown. The statue of a woman in mourning & two back relief panels (both unsigned!) are wonderful works of art. Hopefully more information will come to light in the future about the artists involved.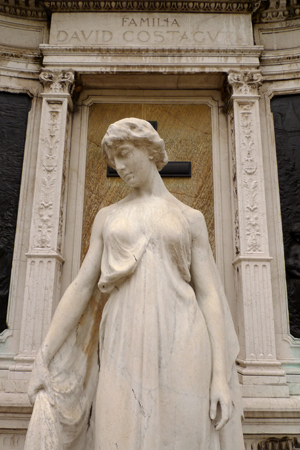 Like Art Nouveau? Learn about the architects of the era, their individual styles & what makes Art Nouveau in Buenos Aires so unique with a 33-page guide from our sister site, Endless Mile.