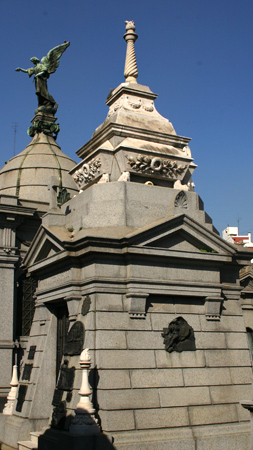 Born in Buenos Aires in 1838, Federico Lacroze quit his city job to make a small fortune in the town of Chivilcoy. Independently wealthy & known for his business savvy, the city government granted him a concession in 1870 to offer trolley service in Buenos Aires… horse-drawn at the time. Working with his brother, Julio—one of 10 siblings—their first line ran through downtown BA & connected Plaza de Mayo with Plaza Miserere (Once). In 1891, only three years before Lacroze passed away, they made the switch to electric trolleys.
Federico's son, Teófilo, expanded the family business to include train lines & the B Line of the Buenos Aires subway system. A plaque shows visitors a bit of Federico's history: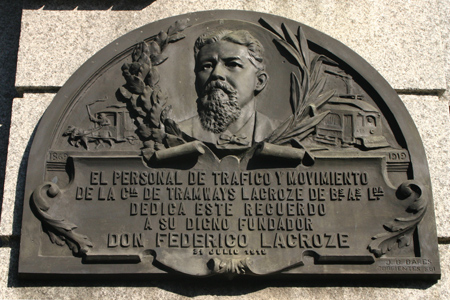 The mausoleum is striking… a Neoclassical temple with sculptures of eternal flames & representations of caskets on top: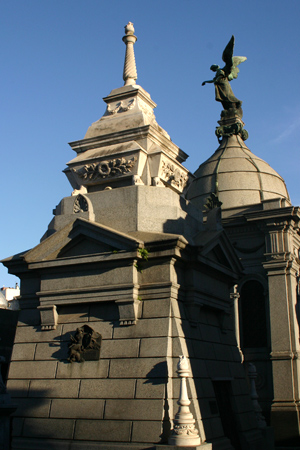 Julio Lacroze was the grandfather of Amalia Lacroze de Fortabat, the richest woman in Argentina with a fortune of almost U$S 2 billion. Although her family was already wealthy, marriage to concrete magnate Alfredo Fortabat in 1947 placed her at the top. A bit scandalous for the time, "Amalita" had to get divorced in Uruguay before marrying Fortabat… but it was true love. He passed away in 1976 & she inherited the company plus all the work involved in running it.
Painted by Andy Warhol & amassing a huge art collection, she donated many works to a new museum recently opened in Puerto Madero. In fact, she was known for her charity… donating millions to those in need & stimulating the arts in Argentina. In February 2012, Amalia died of natural causes in Buenos Aires & was laid to rest in the family tomb, just above Alfredo.