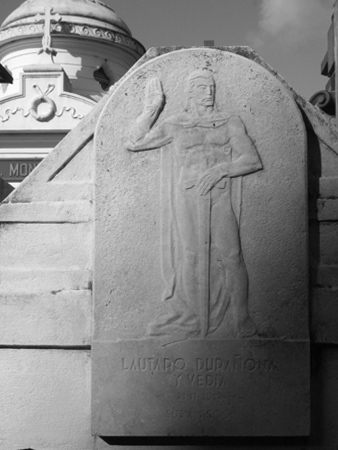 While sculptor Julio César Vergottini has several important works in Chacarita —like statues of tango legend Celedonio Flores & of poetess Alfonsina Storni— his works are rare in Recoleta Cemetery.
One possible reason Vergottini is not so present in Recoleta could be that his typical clients were not the upper-class families who had works of art commissioned in Europe. This plaque decorates the Durañona family vault, but they seem like the typical Recoleta Cemetery family. Hailing from San Antonio de Areco, Francisco Durañona y Vedia is currently the head of the National Insurance Board… appointed by CFK herself. Perhaps the family just liked Vergottini's work.
Vergottini lived in a mini-castle on the banks of the contaminated Riachuelo River in the barrio of Barracas, & most of his public works are in the same area. Two relief panels decorate the colorful, ultra-touristy Caminito in La Boca. Vergottini won first prize to build a monument incorporating the national flag. His work, titled "Monumento al Izamiento de la Bandera" or "Monument to Hoisting the Flag" was unveiled in Plaza Colombia in Barracas in 1940. But don't bother to look for his statues now. When the city government refit Plaza Colombia in 2010, they removed them from the base of the flagpole. Supposedly they are being kept in a warehouse until money is available for their restoration… let's hope they reappear sometime soon!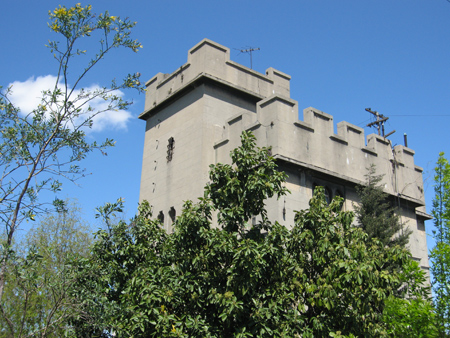 Update (22 Jun 2012): The Vergottini statues have been found! And of course they are in a deplorable state. Someone recently took a photo of the statues discarded in a Department of Monuments & Artworks parking lot in Parque 3 de Febrero (Palermo). More info here in Spanish..sep. such an embarrassment for the city government: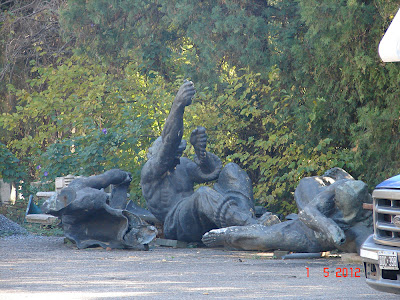 Update (Sep 2019): The statues have returned to Plaza Colombia almost nine years after being removed. At last!
Last photo courtesy of Proteger Barracas.