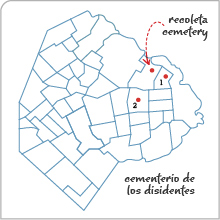 As the importance of trade made Buenos Aires grow, foreign merchants from around the world arrived. So did foreign ministers who recognized the new nation. But many of these new arrivals were not Catholic & therefore could not be buried inside local churches.
One year prior to the opening of Recoleta Cemetery, Governor Martín Rodríguez granted permission for non-Catholics—disidentes—to share a common burial ground. Their first cemetery was located on Calle Juncal, next to the Iglesia del Socorro in Retiro. With only 178 plots, it quickly filled to capacity & was closed in 1833. Nothing remains of this cemetery… a high-rise hotel occupies the spot today (#1 on the map above).
The Rosas government gave the non-Catholic community permission to acquire another piece of land, & the Cementerio Victoria opened in 1833 (#2 on the map above). Occupying almost an entire city block in Once, it was divided by nationality & religion into sections: British, German, American & Jewish. In 1892—59 years after opening—the lot had filled to capacity & the disidentes were on the move again.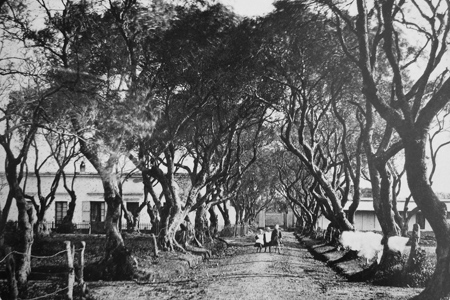 Remember that Chacarita Cemetery opened in 1871 due to a yellow fever outbreak. Since the land set aside was so large, a portion was allocated for non-Catholics with the idea that remains from the Cementerio Victoria would be transferred to the new location in Chacarita. In the end, some funerary monuments & tombstones were moved but most of the remains stayed in Once.
By 1919, the city government wanted to acquire the abandoned cemetery & convert it into a public space. Burials 1.5 m deep did not have to be transferred, provided that their families relinquished all rights to claim their ancestors. By 1924, 457 transfers were registered & the following year Buenos Aires obtained a new park: Plaza 1º de Mayo.
In 2006 during a refit of the plaza, work crews found remains of the former cemetery. Archaeologists arrived & began a thorough investigation of one sector. Besides uncovering a complete skeleton, they also uncovered many personal effects, marble tombstones & crosses. All items were cataloged & several put on display at the Cementerio Británico in Chacarita. Photos below are from 2006 during the dig: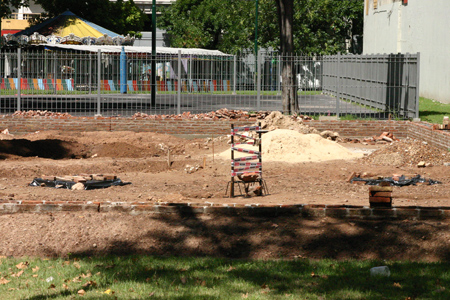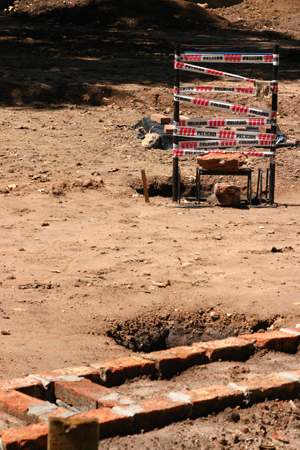 The city government under Mauricio Macri has currently abandoned many of the plazas reformed just a few years earlier. Plaza 1º de Mayo happens to be one of the worst cases in the city. Gravel for walkways has not been replaced & grass has disappeared once again… as if nothing had ever been done. Despite its poor condition, at least the excavated area has been gated off & protected. It is the only green area in the plaza these days: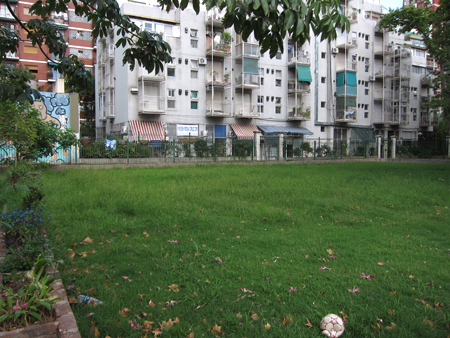 —————————————————
Other Buenos Aires cemeteries: Cementerio del Sur • Chacarita • San José de Flores • Cementerio de los Disidentes • Cementerio Británico • Cementerio Alemán
Archival photo taken by Esteban Gonnet, circa 1865. Courtesy of the New York Public Library, Wallach Collection. Full text of the findings by archaeologists can be found here (in Spanish).