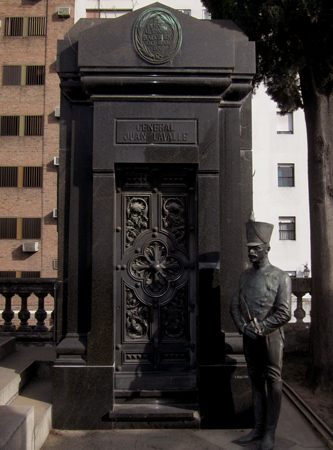 Although very much deserving a spot in Recoleta Cemetery, it's amazing that Lavalle ever made it here. His remains traveled almost as much as those of Eva Perón.
Juan Galo de Lavalle was born in 1797 in Buenos Aires, a direct descendant of Hernán Cortés. Amazing but true. He spent a good portion of his childhood in Santiago de Chile, but the family returned to Buenos Aires in 1807. Five years later at the age of 15, he joined the Granaderos where he fought under the command of Alvear & eventually served under San Martín in the Ejército de los Andes. Lavalle participated in many of the major battles of independence, reaching the rank of coronel.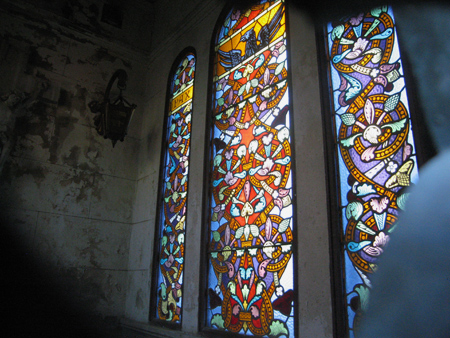 Lavalle found a moment to marry a woman from Mendoza, but he was soon placed on the battlefield again during the war with Brazil (1825-28). As a result of the war, Uruguay was created as a buffer state between Argentina & Brazil. The peace agreement signed by Manuel Dorrego drew feelings of resentment at the loss of the opposite bank of the Río de la Plata & internal tensions grew.
Salvador del Carril & others convinced Lavalle to support an alternative government, against that of Dorrego & Juan Manuel de Rosas. Even though they had been childhood friends, Lavalle ordered the execution of Dorrego who had been captured. It was a decision he would regret for the rest of his life. Instead of resolving an internal conflict, Dorrego's execution sparked a civil war.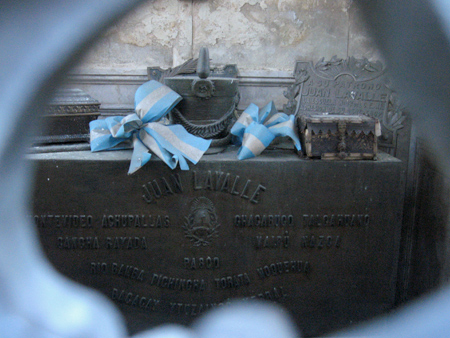 Lavalle went into exile to Uruguay & commanded forces from there in an effort to defeat Rosas. But in 1840, the troops of Rosas managed to chase Lavalle all the way to northwest Argentina. Discovering where Lavalle was spending the night in San Salvador de Jujuy, troops shot at the house & Lavalle was mortally wounded. He died in 1841.
Officers were ordered to decapitate Lavalle's body & display the head publicly, but troops loyal to Lavalle took his body further north. The next bit is particularly gruesome. Decaying & difficult to manage, they removed Lavalle's flesh from the bones, placed his heart in a jar with alcohol & his head in a jar of honey. Lavalle was eventually laid to rest in Potosí, Bolivia. The following year Lavalle was moved to Valparaiso, Chile & only in 1861—after the destitution of Rosas—could Lavalle return to Buenos Aires & be buried in Recoleta Cemetery.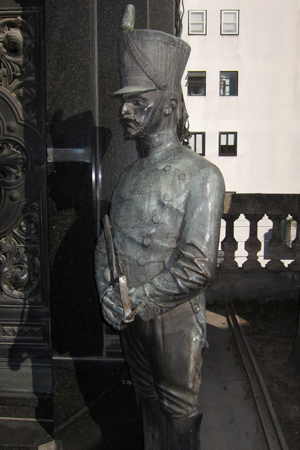 The tomb should be better maintained, but one nice feature is a Granadero statue standing guard. The sword has been broken off several times (now in the admin office for safekeeping), & a plaque states:
Granadero! Vela su sueño y, si despierta, dile que su patria lo admira!

Soldier! Guard his sleep &, if he wakes, tell him that his country admires him!

Some sources claim that the statue is a work of Luis Perlotti, but after examining the sculpture closely there is no visible signature. Perlotti typically signed all his work, like the statue of Luis Ángel Firpo & a large number of plaques. The base display the following text: Arsenal Naval, B. Aires, Dársena Norte, so the Navy likely funded the statue. More research to be done…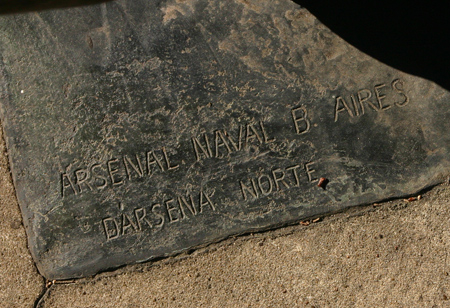 Update (28 Aug 2022): Turns out there is a signature on the sculpture after all! Definitely not by Perlotti but by Víctor José Garino… responsible for several monuments in Argentina, most notably that of Martín Manuel de Guemes in Salta. Thanks to Adriana Ortolani for discovering the true sculptor!