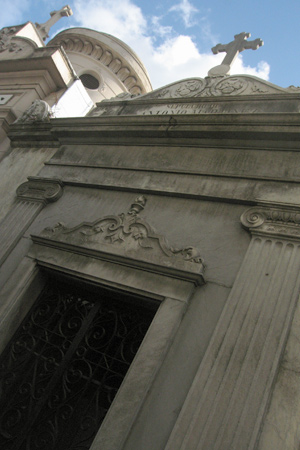 Neglected & forgotten, the final resting place of Ángel María Zuloaga remains unnoticed by most. A few plaques alert to his skill in aviation, but only one mentions Zuloaga's 1916 record-breaking trip across the Andes by hot air balloon with Eduardo Bradley: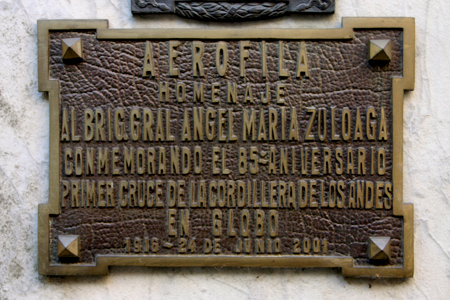 Quite a personality in his own right & not a mere sidekick to Bradley, Zuloaga traveled the world & was considered an expert in aeronautics. In his 20s, Zuloaga served as military attaché to France during World War I & later spent time in Washington, DC as a military advisor. He could have even been the first to cross the Atlantic by plane, but the Argentine government failed to back Zuloaga's request for assistance three years before Lindbergh's historic flight. Foreign Minister Bernardo de Irigoyen told Zuloaga, "If man was meant to fly, God would have given him wings." At this point, Zuloaga had to choose between his Air Force career or going it alone across the Atlantic… he remained in the military.
His youngest daughter described him as "loving but disciplined" & fondly remembered his great love of art & friendships with Benito Quinquela Martín & Luis Perlotti. During a visit to Europe as World War II began, Zuloaga was invited to speak with Hitler but refused to go. He was, however, on friendly terms with Franco. Zuloaga added to his legacy by penning a history of Argentine aviation in 1948 titled "La Victoria de las Alas." At present, I've been unable to determine how Zuloaga was buried here but I'm assuming that the Martínez family was related to his wife in some way. Any further info would be appreciated.