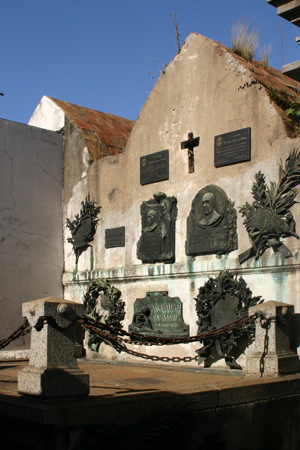 With today marking the 198th anniversary of Argentina's declaration of independence, there's no better time to discuss the author of the national anthem.
Born in Buenos Aires in 1785, Vicente López y Planes participated in every important event leading to the birth of the new nation. His political career began as secretary of the short-lived First Triumvirate, & he maintained a close friendship with Manuel Belgrano.
As the fight for independence continued in other parts of Argentina, López y Planes was requested to write the lyrics for a military march which later became the national anthem. First played in 1813 at the home of Mariquita Sánchez de Thompson then publicly debuted on May 25th that same year, the song bitterly attacked Spain… a normal reaction given that they were at war. The anthem was later changed to remove the nasty references to Spain, & a shorter version was officially adopted since the original ran a bit long:
Mortals! Hear the sacred cry:
Freedom, freedom, freedom!
Hear the noise of broken chains,
see noble Equality enthroned.
Rises to the heights of the Earth
a new and glorious nation,
its head crowned with laurels,
and at her feet lying a Lion.

Chorus:
May the laurels be eternal,
the ones we managed to win.
Let us live crowned with glory…
or swear to die gloriously.
As minister under the first President Bernardino Rivadavia, López y Planes took charge of the 1827 interim government when Rivadavia resigned. After his one-month presidency ended, he maintained an active role in national politics mainly in the judiciary branch. Other intellectual pursuits found López y Planes as part of a literary society founded by Marcos Sastre.
López y Planes died in 1856, & his crypt was declared a National Historic Monument in 1946. Simply decorated with four corner posts connected with chains, numerous plaques occupy the walls of neighboring tombs. New plaques are generally made of marble instead of bronze or other metals: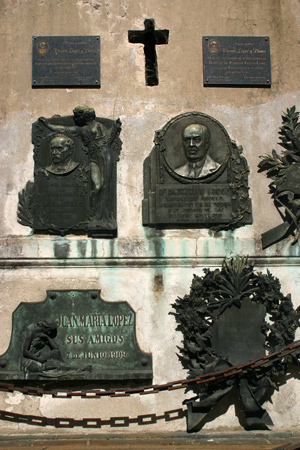 The full text of both the original & modified versions of the Argentine national anthem can be found on Wikipedia along with an instrumental recording.