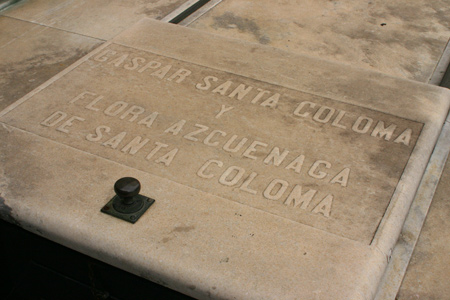 Fortunes come & fortunes go. Perhaps that's why a simple marker is the only decoration on the resting place of one of the most influential businessmen in early Argentine history.
Gaspar de Santa Coloma immigrated from the Basque Country to Buenos Aires in 1768 at the age of 26. After marrying Flora de Azcuénaga, he became a leading figure & benefactor to the Azcuénaga family… even arranging a marriage between a close cousin & Flora's brother, Miguel de Azcuénaga. Making a fortune based on trade with Spain, Santa Coloma sponsored & assisted others coming from his Basque homeland. Martín de Álzaga saw Santa Coloma as a father figure, lived & worked with him from the ages of 12 to 22, & was given a large sum of money by Santa Coloma to start his own business.
Gaspar de Santa Coloma & his protegé Martín de Álzaga were among the richest men in Buenos Aires when independence was declared from Spain in 1810. Their close ties to Spain put them at odds with the revolutionaries, & both men were viewed as a threat. The First Triumvirate sentenced Martín de Álzaga to death, but Santa Coloma avoided the execution squads at the cost of his fortune. His close relationship with Miguel de Azcuénaga—who formed part of the Primera Junta—likely helped him as well. Santa Coloma died in 1815 with little money or prestige, a casualty of revolutionary times.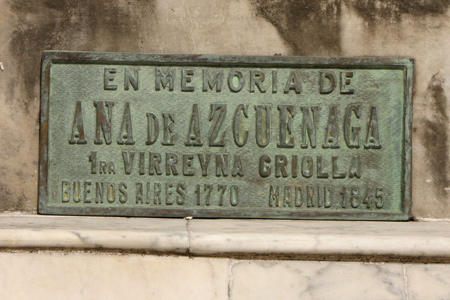 Strong ties to the Azcuénaga clan are also visible on a plaque dedicated to Miguel de Azcuénaga's sister, Ana. Born in Buenos Aires, she was the first local to marry a Spanish Viceroy. Antonio de Olaguer y Feliú ruled from 1797 to 1799. Both Antonio & Ana went to Spain after the revolution & died there. It is unclear if Ana's remains were eventually returned to Buenos Aires & placed here.