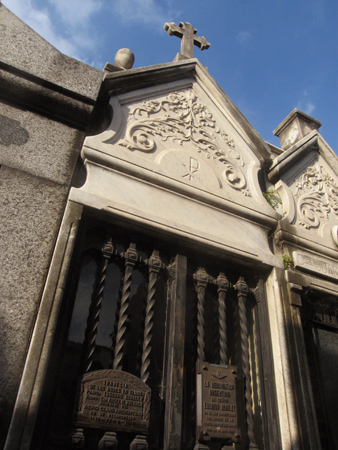 With no nameplate on the skinny vault & stuck in the middle of a narrow corridor, it's easy to miss one of the greats of Argentine aviation.
Coming from a long line of Irish-American intermarriage in Argentina, Eduardo Bradley was born in the city of La Plata in 1887. His fascination for the sport of aeronautics led him to become friends with Argentina's first & foremost aviator, Jorge Newbery.
Newbery died in an attempt to cross the Andes by plane in 1914, but two years later Bradley made it… not by plane but by hot-air balloon. No small feat for the time. The Andes are the second tallest mountain chain on Earth after the Himalayas, & temperatures reached a low of -34ºF during Bradley's trip. He & co-pilot Ángel María Zuloaga departed from Santiago de Chile & landed in Mendoza in 1916.
Plaques from 1966—commemorating the 50th anniversary of Bradley's flight—are the only reminder left. Most people have no idea who Bradley is today. He passed away in 1951.