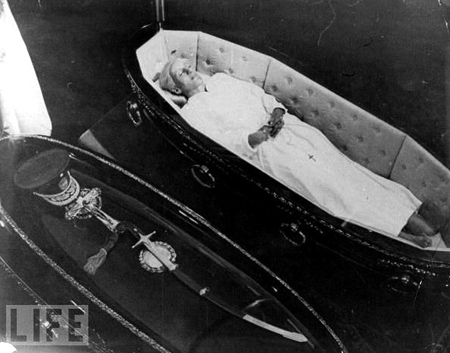 Found in the fantastic Life magazine archive; photo credited to Keystone/Getty Images & taken on 10 Dec 1974.
The bodies of Argentinian President Juan Domingo Peron (1895 – 1974) and his first wife Eva Peron, known as Evita, (1919 – 1952) at the Presidential Residence in Buenos Aires where they could be viewed by the public. The body of Eva Peron had been brought from a tomb in Italy.
This photo was taken about one month after the procession (see previous post), & the caskets could not have been on display for long… too much of a security risk. But the Montoneros got what they wanted —Evita back in Argentina.
After Isabel was ousted by the 1976 dictatorship, Eva's next stop was Recoleta Cemetery. Perón went to his family vault in Chacarita. Although Perón was transferred to his San Vicente country estate in 2006, the (in)famous couple has never been reunited again.