After a little research at the Instituto Histórico, I was able to discover that Victorino de la Plaza was indeed buried in Recoleta Cemetery. The vault undergoing restoration in the previous post belonged to the former President of Argentina, but evidently his family decided he would be more comfortable elsewhere. All traces of De la Plaza have been removed.
I find it odd—and a little sad—that such an important historical figure would be moved from the most pretigious cemetery in the nation. I'm sure the family has their reasons.
Anyway, the new occupants have already moved in… the family of José María Vila Penalta: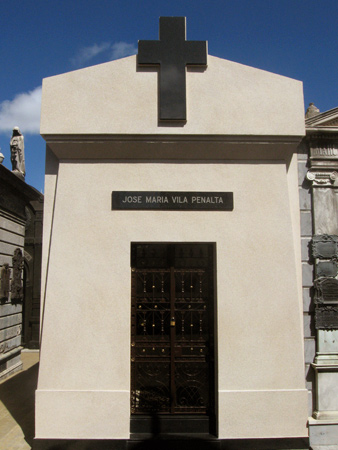 Update (10 Dec 2012): Victorino de la Plaza had no children, but Rocco Reynal pointed me to an interview on YouTube with Dinorah de la Plaza, a great-grandniece. She states that it was difficult to maintain the family vault in Recoleta, so in 2004 they transferred Victorino's remains along with those of his mother & first wife to the Cementerio Parque Memorial in Pilar. They considered a burial inside the Salta cathedral, but since most of the family has lived in Pilar since the 1970s they decided to keep him close. Mystery solved!