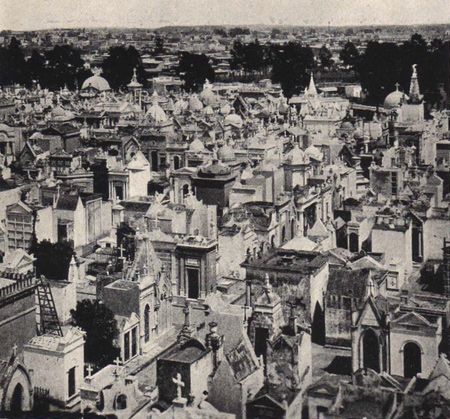 Avid world traveler Frank G. Carpenter gets credit for this photo of Recoleta Cemetery. Included in the 1923 book The Tail of the Hemisphere: Chile & Argentina, Marc of Asado Argentina kindly scanned this for me along with many other wonderful photos of Buenos Aires in the 1920s. Thanks!
The accompanying text reads:
In the Recoleta Cemetery, the dead sleep in little marble palaces. It is divided into paved streets with the homes of the departed, a house and a lot for each rich family and humbler, more congested quarters for the poor.
A stunning photo for the lack of edification around the cemetery—dozens of tall buildings surround it today—much has changed inside the cemetery since then as well. After staring at this photo for 20 minutes, I found two landmarks which finally allowed me to pinpoint the location from where it was taken… the bell tower of the Iglesia de Pilar.