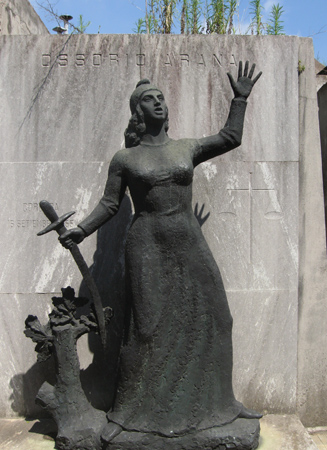 Born in the western outskirts of Buenos Aires in 1902, Arturo Ossorio Arana embarked on a military career that would lead him to participate in several military coups. Staunchly anti-peronista, he would also be complicit in hiding Eva Perón's embalmed corpse… proof that friends & enemies rest side by side in Recoleta Cemetery.
In 1951, the Minister of the Army blamed Ossorio Arana for leading a group of young officers in a revolt against the Perón government. Relieved from duty, he tried to oust Perón again in 1955 with help from Pedro Aramburu & Eduardo Lonardi. Resulting civilian casualties were high after rogue military planes bombed Plaza de Mayo. However, Perón had been tipped off & took refuge in army headquarters just in time. A few months later, the military finally succeeded in taking control & attempted to wipe all traces of Peronism from Argentina.
As part of that plan, Ossorio Arana held the deceased Eva Perón captive for a while… but you'll have to get the map/guidebook for that story! In the end, Ossorio Arana was more known for re-establishing martial law as Commander-in-Chief under Aramburu's de facto presidency. In 1956, he gave permission to execute by firing squad a group of young people who had opposed the military government. Seven of 12 people shot would survive & later become immortalized in Rodolfo Walsh's Operación Massacre.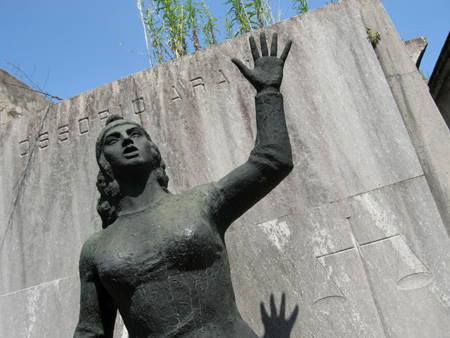 The tomb of Ossorio Arana is striking with its gigantic, oversized statue of Argentina. A brilliant work by sculptor José Fioravanti, she represents Liberty with her sword ready for action. Ossorio Arana died in Buenos Aires in 1967, but the place & date on his tomb —Córdoba, 16 Sep 1955— correspond to the revolution that forced Perón to flee Argentina. Engraved scales represent Ossorio Arana's belief in military justice.
His funeral drew a large crowd, with a multitude of military speakers & a large escort. La Nación reported that a couple people were arrested for public disturbance… one even shouting "Long live democracy!" Big thanks to Nicolás Colombo for sending us the images below… he runs the Misterios de La Plata blog & Facebook group.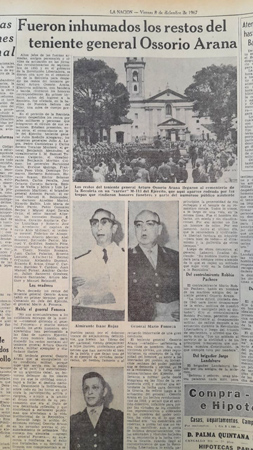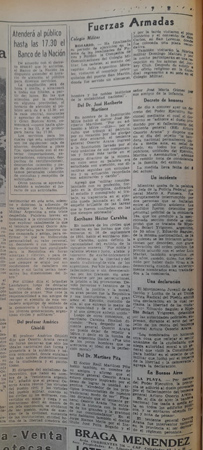 Given his control over national affairs, memorials (like the one shown below) were common for several years after Ossorio Arana's death. On the first anniversary, former President Aramburu gave a speech that was later engraved on the left side of the tomb:
"…If you fear the risks of Liberty, If you find safety in the obedience that despots impose… Do not stand before the tomb of this soldier!"
Leave a Comment