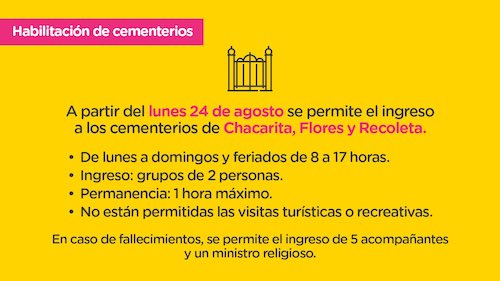 As of today, Recoleta Cemetery —as well as the other two burial grounds in Buenos Aires— will reopen… but only for their intended purpose: funerals or visiting deceased relatives. The above announcement lists the following conditions:
Hours are Monday to Friday (including holidays) from 08:00 to 17:00.
Only two people per family will be allowed to enter.
Length of stay: 1 hour maximum.

Tourism or recreational visits are not allowed.

For burials, five people + a religious minister are able to enter together.
Basically if you don't have business inside Recoleta Cemetery, there's still no option to enter. Staff confirmed that regular cleaning & maintenance has taken place since closure on 13 Mar 2020, but workers have been the only ones permitted inside. While it remains unclear how these new regulations will be enforced, please refrain from tourism until further notice. Gracias!
Update (Dec 2021): Recoleta Cemetery is now open for all visitors & with regular hours of operation!
Leave a Comment