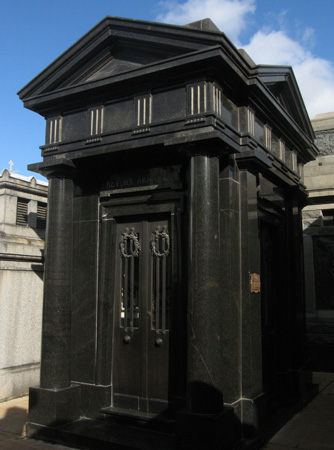 Armenians first arrived in Argentina during two periods in the early 20th century, either escaping a horrendous genocide beginning in 1915 during World War I or a continued massacre by the Turks in 1921. Although no accurate numbers exist, an estimated one million people were murdered by the end of violence in 1923.
Born in Marash, Akrabian's father died defending a German orphanage where various Armenian families had gone for safe haven. Inside the orphanage also happened to be his future wife, Luisa Naldjian… but they wouldn't meet until much later. Akrabian & other family members managed to escape to the State of Aleppo, but he left in 1924 on a ship bound for Buenos Aires.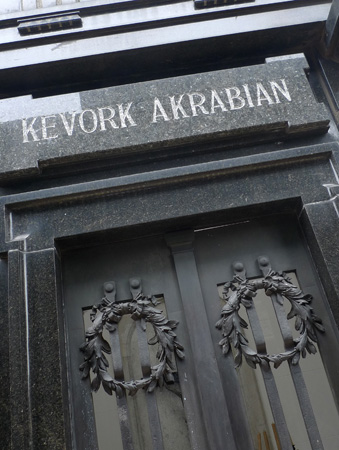 Eventually Akrabian found work at a shoe factory where Luisa Naldjian worked. Her father happened to be the owner, & they'd arrived in Buenos Aires one year earlier. Sounds like fate! They married in their early 20's, opened their own shoe factory together & became very active in the Armenian community in Buenos Aires. Most Armenians settled in the neighborhood of Palermo where self-help organizations opened & restaurants thrive to this day. One reminder of this community is a monument in the Plazoleta Monte Ararat (Charcas 3500):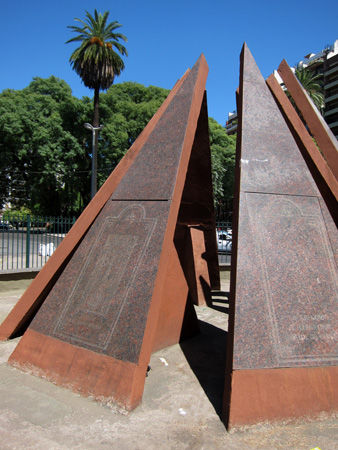 In the 1960s, Akrabian purchased the Wilton Hotel in Barrio Norte, near the intersection of Callao & Santa Fe. Flying flags of Armenia & Argentina, the hotel became a hub for Armenians visiting from abroad. Unfortunately flags of other countries are now mixed in with that of Armenia, but I had friends visit in 2003 & stay there… at that time the original flags still flew: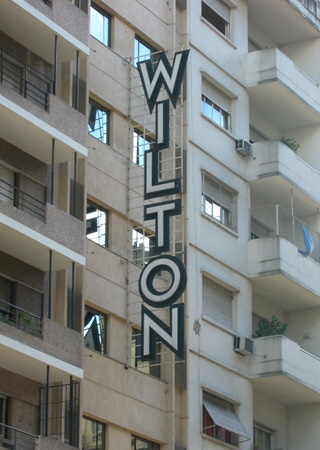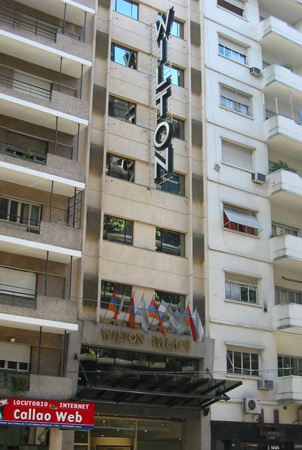 Two plaques on Akrabian's tomb commemorate his service as president of the Unión Compatriótica Armenia de Marash: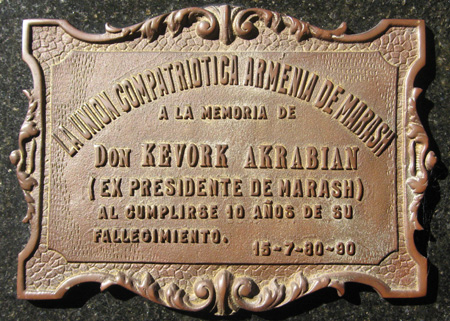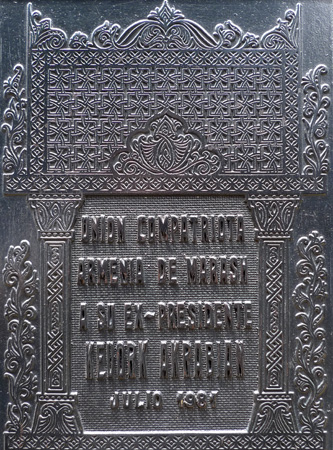 His wife, Luisa, passed away in 2015 at the age of 100 & is also buried here. For more information about this important family, read this post on the Aurora Prize website.
Leave a Comment