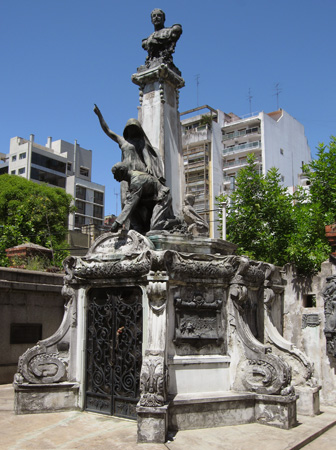 One of 17 children—four destined to occupy high-ranking positions in the military—Manuel Jorge Campos participated in many of the major events of his day. Breaking from the influence of older brother General Luis María Campos & establishing a distinguished career of his own, the current condition of Manuel's tomb suggests that history has perhaps forgotten his many contributions to Argentina… just compare with Luis María five mausoleums away.
As a young man, Manuel fought & was injured in several battles during the War of the Triple Alliance against Paraguay. Plaques at the mausoleum's base depict those struggles: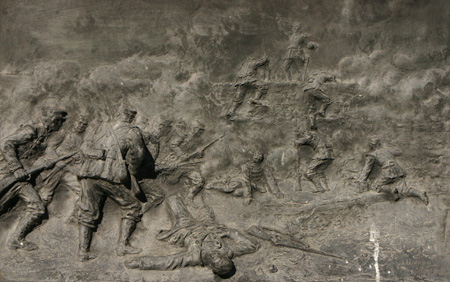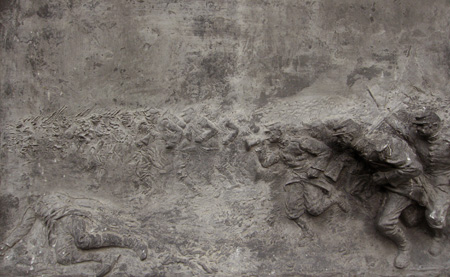 He also helped squash the several rebellions of Buenos Aires against the national government as well as assisted Julio Argentino Roca in the fight to acquire land from the indigenous population in 1879. But his most historic claim to fame is a still-unconfirmed conspiracy which made the 1890 Revolution against the national government fail. Manuel Campos conspired with revolutionaries, gained their trust & became their military leader. Arrested & jailed shortly before the day of attack, President Roca visited Campos in his cell… historians believe some sneaky plans formed as a result of that meeting.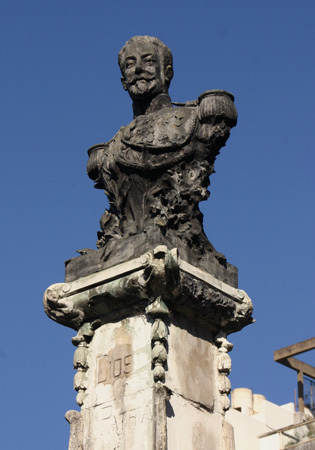 From his cell, Campos ordered the revolution to continue & fighting broke out in Buenos Aires. Only lasting four days, hundreds of people died including another Campos brother, Julio. Many believe that Campos made bad tactical decisions on purpose, throwing the revolution so Roca & his elite allies could remain in power. In spite of leading a rebellion, Campos never received any punishment. In fact, he spent the rest of his life in politics as either a Representative or Senator, supporting modernization of the military as proposed by fellow general Pablo Riccheri. On the back wall, a large plaque given by the legislature of the Province of Buenos Aires commemorates that service: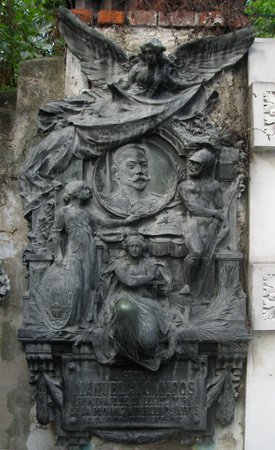 Of artistic merit is one of the few surviving works in Buenos Aires by Spanish painter & sculptor José Llaneces. Contemporary of Joaquín Sorolla & favored by the Spanish royal family at the beginning of the 20th century, Llaneces painted a series of murals for the Jockey Club… all destroyed in the 1953 fire set by Peronistas. A monument to Hipólito Vieytes by Llaneces sits in the neighborhood of Barracas, unseen & forgotten. The cemetery's sculpture depicts a shrouded woman guiding a fallen soldier to heaven, perhaps Campos himself. The mausoleum received a write-up in a 1912 edition of the Spanish magazine Mundo Gráfico: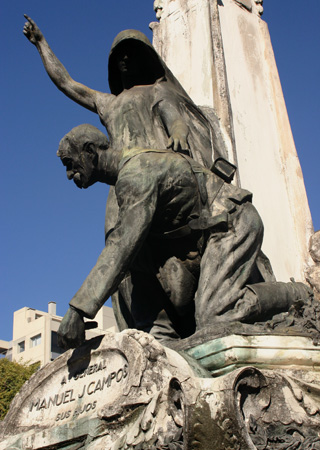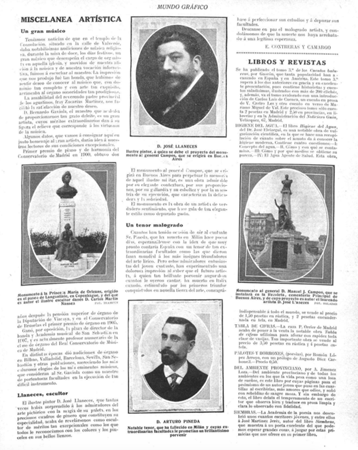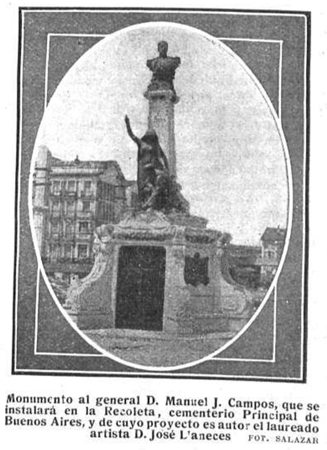 Leave a Comment