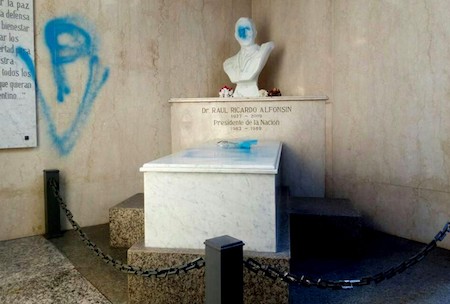 Sadly, two posts in a row deal with damage & destruction inside Recoleta Cemetery. The tomb of former President Raúl Alfonsín was spray painted on 05 Jun 2017 with the pro-Peronista symbol "PV", Perón vuelve. Alfonín passed away in Mar 2009 after a long battle with lung cancer & was buried with much fanfare, fitting of someone so important in national history (for more info, see the 4-part Death of a President series). This method of showing political disagreement should never be considered acceptable.
—————————
What follows is a translation of a press release from the Télam news agency:
National representative Ricardo Alfonsín (of the Cambiemos-Unión Cívica Radical party) today thanked those who called him concerning the vandalism of his father's mausoleum located in Recoleta Cemetery & confirmed that he would not accept any candidacy.
After a reunion with Governor María Eugenia Vidal, in which it was rumored that the leader of Buenos Aires province offered him a post, Alfonsín reassured that "the meeting took place & we talked about many things, both sides showed courtesy, kindness & frankness", but emphasized that he does not want "to be a candidate for an elected position, either in Argentina or in a foreign country".
In statements to Télam Radio, Alfonsín said that he received calls offering support after news of vandalism of the mausoleum of the deceased ex-President Raúl Alfonsín had been made public.
"In every country around the world there are powerful personalities with anti-democratic ideas who do this kind of thing, which we always must renounce regardless of who is the victim", he affirmed.
Among those who communicated with the Cambiemos representative are the Minister of Security, Patricia Bullrich; the head of the Federal System of Media & Public Content, Hernán Lombardi; the ex-President Cristina Fernández de Kirchner; the ex-Minister of Transportation Florencio Randazzo; and the former head of the Cabinet Aníbal Fernández, as well as "all members of the Radical political party", the Governor of Santa Fe province & the national head of the Socialist Party Antonio Bonfatti.
In this context, Alfonsín complained that the during the period of government under Cambiemos, the UCR party had maintained "a rather passive role which has harmed society" & added that "no one should be surprised, therefore, that disagreements would present themselves". At the same time he admitted to be "working" so that "in 2019 there will be a Radical party President".
Photo above from the Télam news agency.
Leave a Comment