Buenos Aires attracts millions of tourists every year & among those are quite a few celebrities. Whether in BA for promotion, performance or just to relax, many see the city's top attractions. However, only few have left a public record of their visit to Recoleta Cemetery.
One of the oldest celebrity photos we've found online is from Liza Minnelli's visit in 1993. Below, she leaves flowers for Eva Perón: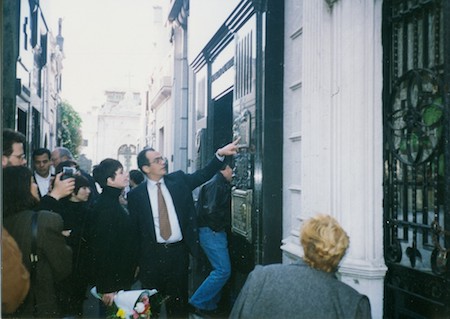 During a Rolling Stones concert tour, Mick Jagger strolled through the cemetery apparently unnoticed in February 2016… except for staff taking photos for his Twitter account: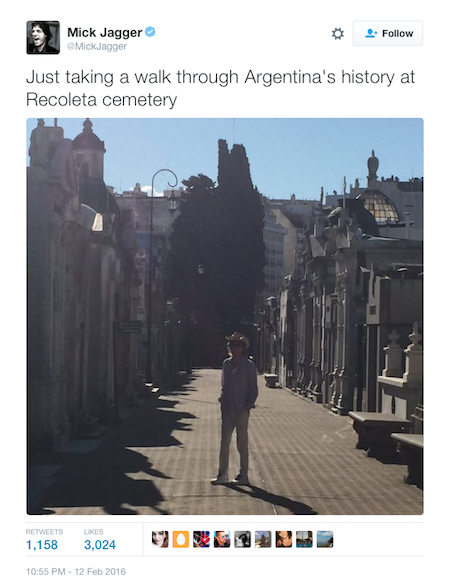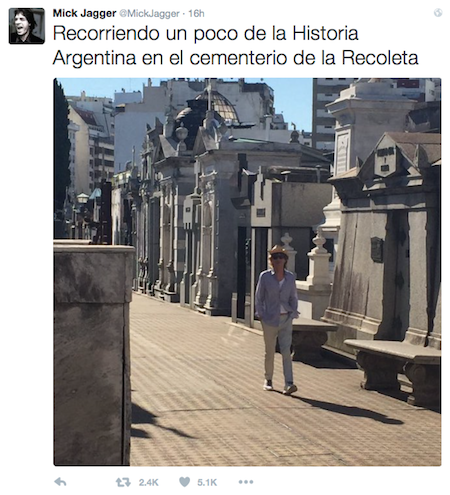 Ashton Kutcher traveled to Buenos Aires in March 2016 to promote his latest series The Ranch. He really made the rounds, as Armando Besada posted in Instagram: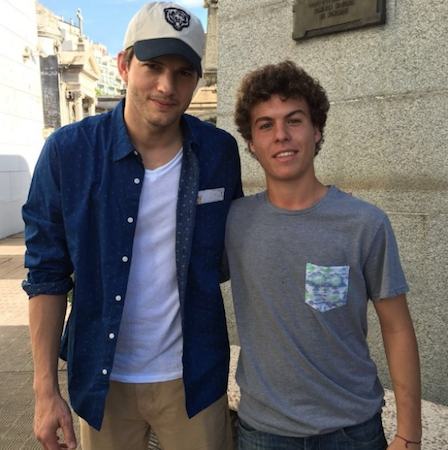 A few months later in May 2016, Dolph Lundgren came to Buenos Aires for "its art, the beef & the women, of course!" Ugh. At least that's the version the newspaper La Nación wanted to tell. Lundgren filmed a few segments for the Space Awards in La Boca & while in the cemetery, he took a selfie at the tomb of Eva Perón & posted it on Instagram :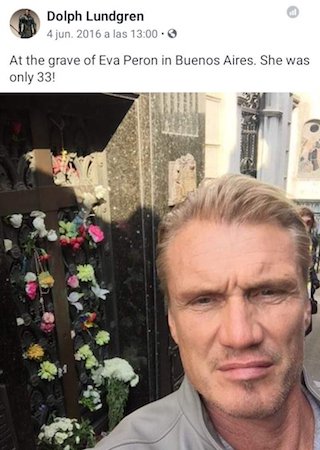 Queen Margrethe II of Denmark visited Buenos Aires in 2019, but that trip wasn't her first time in Argentina. She'd visited in 1966 at the age of 25, but this time photographers recorded her visit to Recoleta Cemetery (image courtesy of La Nación):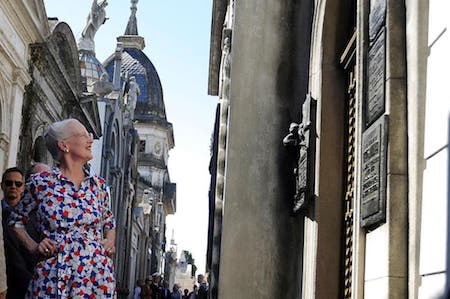 English pop star Dua Lipa chatted with fans & had a private tour of the cemetery in September 2022. We don't know who this guide is, so I wonder what she (& her massive security force) thought of the visit: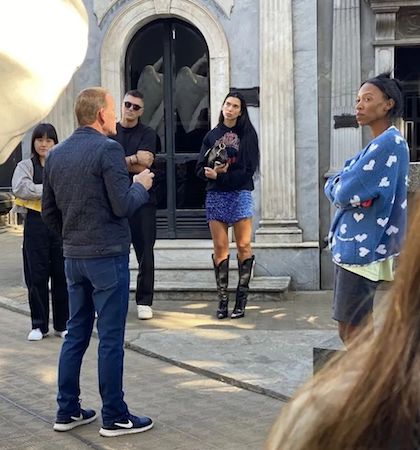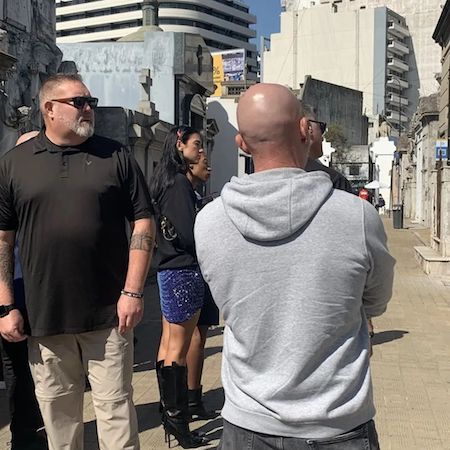 A surprising omission: Madonna first visited Argentina in 1993 during the Girlie Show World Tour, then returned three years later to film Alan Parker's version of the musical Evita. Amazingly, no photo ever surfaced of her visiting Eva Perón's mausoleum. Did she go undercover? After hours? Would that have even been possible? Madonna brought the Sticky & Sweet Tour to Buenos Aires in 2008 & finished the MDNA Tour in 2012 in Argentina. Although she didn't miss a photo-op with former President Cristina Fernández de Kirchner & another visit to the Casa Rosada, there has never been a public photo released of Madonna in Recoleta Cemetery.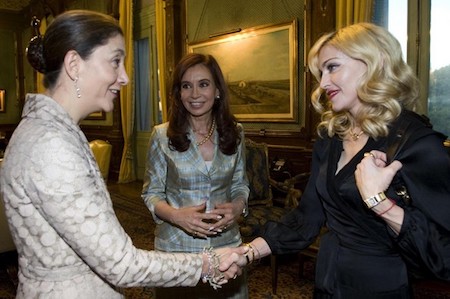 Did we miss a celebrity? Send a photo along with details, & we'll add them to this list.
Leave a Comment