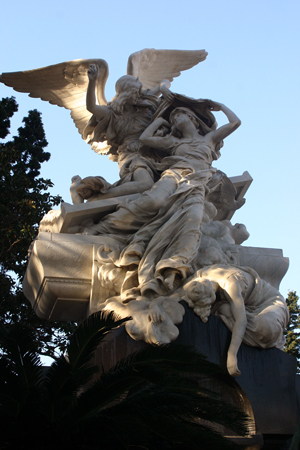 José Clemente Paz founded the newspaper "La Prensa" in 1869 with a commitment to independent journalism & respect for the private individual behind the public persona. Its circulation & influence became so great that there were foreign correspondents in most major capital cities… something uncommon for the 1870s.
Paz used his influence to become a representative, then senator, in Congress. He even served as the Argentine ambassador to France & Spain. He most likely had his eyes set on the presidency but never quite made it. "La Prensa" fell on hard times when Perón came to power. Criticizing the populist hero, "La Prensa" was conveniently shut down. It resumed operation after the Perón years, but readership had shifted elsewhere. Even though it continues to operate, circulation is very limited. However, the Paz legacy lives on in Buenos Aires: his gigantic Plaza San Martín mansion is now used as the Círculo Militar & the Avenida de Mayo newspaper office serves as a city cultural center.
The Paz family tomb is one of the highlights of Recoleta Cemetery. Two larger-than-life angels at ground level focus their attention above. The left angel reaches to the sculpture group while her body wraps around a giant anchor, but there's no nautical meaning here. The anchor was used as a Christian symbol until around 400 A.D. & bears the signature of the tomb's artist: Jules Felix Coutan (1904). He was the most important sculptor of the era… head of the École de Beaux Arts in Paris & commissioned for works on the French National Library as well as Grand Central Station in New York City. Paz definitely had some good connections: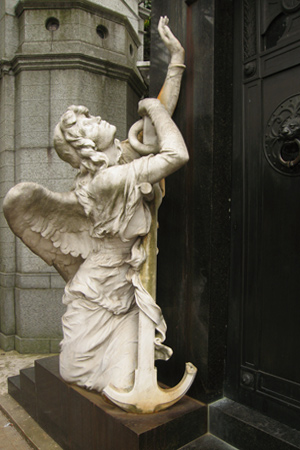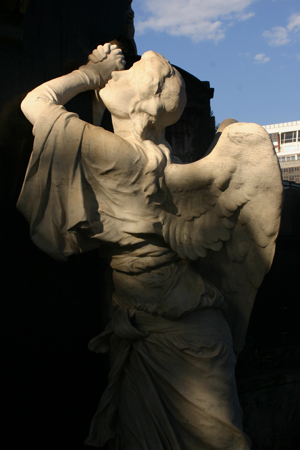 Thanks to the angels below, the viewer's eye is drawn to the sculptures above, best seen from a distance. A woman lies, collapsed, with an oil lamp in her hand. No flame comes from the lamp, representing death. Above her is an enormous open casket with a dove escaping. Some people link that bird with peace, but others suggest that it is the actual moment of death. The soul literally rises out of the casket to be greeted by a third angel. Two actions are present here: the covering the soul with a cloth as protection & pointing to the direction where they are going… up & away: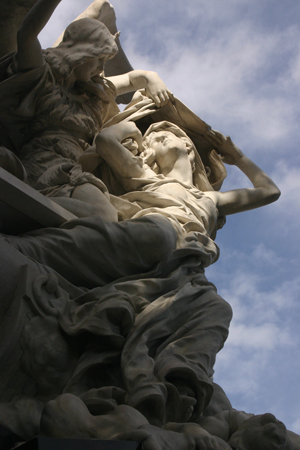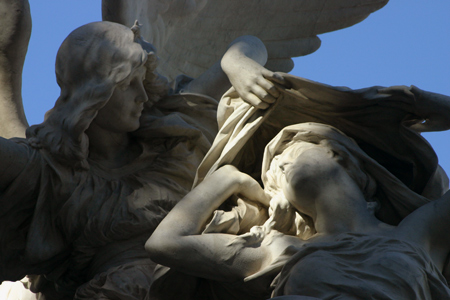 Whether looking at this image religiously or not, we should all hope our passing generates such beauty & peace.
5 Comments